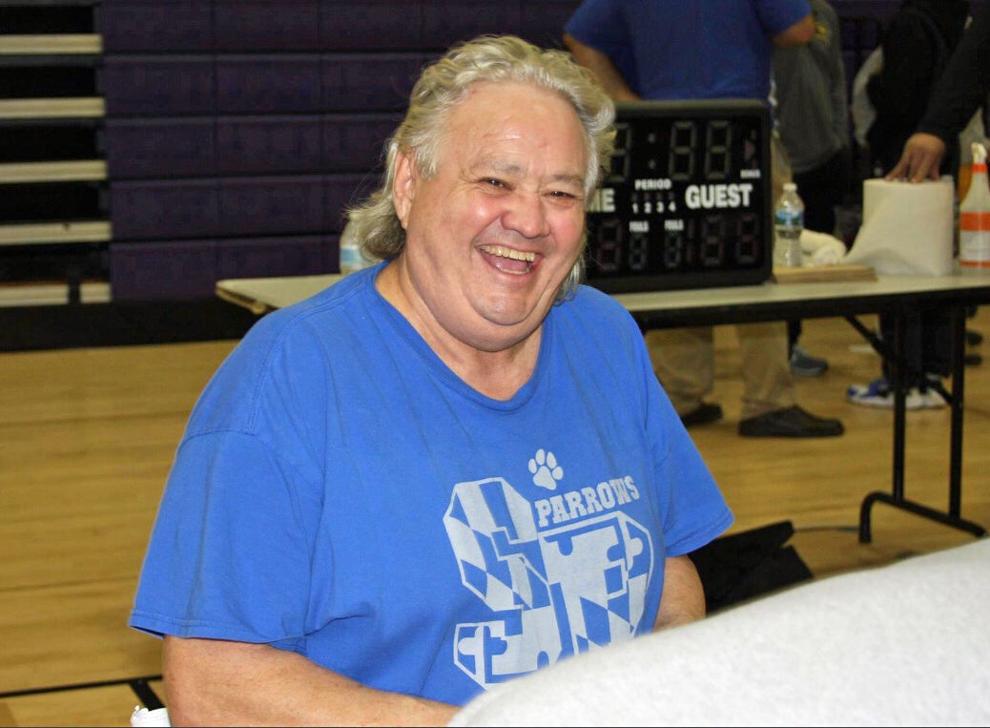 Anyone who has attended a sporting event at Sparrows Point High School over the previous few decades knows David Young.
Even if they don't know his name, they'll recognize his face.
David Young hasn't missed a Point wrestling match since 1985. Since then, he's also been a constant presence at Sparrows Point football, soccer, lacrosse, baseball ... if there's a team wearing blue-and-grey with some kind of canine symbol, Dave is likely in the stands.
"He is a consistent cheerleader for everything Sparrows Point," athletic director Paul Latanishen said. "His passion for wrestling doesn't stop him from being there for the kids in other sports."
As of Tuesday, Dave Young was in the critical care unit at the University of Maryland Hospital, sedated, and on a ventilator fighting COVID-19.
According to his son, Michael Young, Dave is also suffering from pneumonia.
"His oxygen level in the ventilator is down to 45%," Michael said on Monday. "They were taking some blood tests to see how much oxygen is in his blood, then they'll make a decision about weaning him [off the ventilator] again."
Dave is also diabetic, which puts him in high-risk category to experience complications from COVID-19.
His father started feeling ill at Christmas, Michael said, and entered the hospital on New Year's Day.
He was identified as being infected with the coronavirus that day, and was moved to the Baltimore Convention Center before being taken to the University of Maryland.
Dave was placed on a ventilator on Jan. 12.
"His oxygen levels were low, and the ventilator took some stress off of his system," Michael said.
A 1969 graduate of Sparrows Point, Dave was always a huge wrestling fan. Michael won two state titles for the Pointers in the 1990's.
"He treats all the kids at Sparrows Point as his own," Michael said. "He does a lot of things for Sparrows Point people don't know about, like donating to the athletic program and helping teams raise money."
Sparrows Point wrestling coach Mike Whisner said Dave was a great help to the program.
"He is always willing to lend a hand," Whisner said. "Thse tournaments can be a long day for the coaches and parents, and I'm very impressed with someone who can stay for an entire tournament and they do not have a kid involved.
"I really appreciate how loyal he is to the program and his wealth of knowledge on a wide variety of things. I also get advice from him, from an outside perspective."
Latanishen also appreciates the advice and suggestions he gets from Dave.
"It's never done in a way that's critical," he said. "He always wants to help things be better. He absolutely bleeds blue-and-grey. A treasured part of the Sparrows Point community."
Latanishen has prepared a shirt to present to Dave when he is discharged. Embroidered on the shirt is "Pointer Superfan."
The woman who did the work on the shirt refused payment when she learned who it was for, Latanishen said.
"She said, 'he's been there for all os us,'" he said. "Dave's treasure is his loyalty, and that extends to so many aspects of Point athletics."