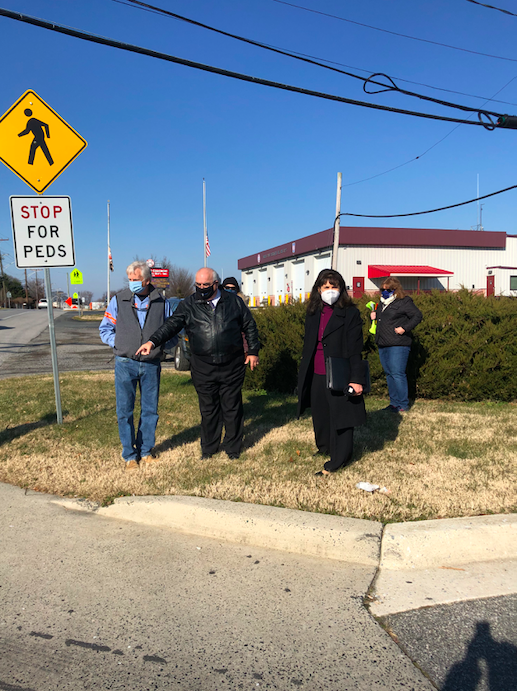 North Point Road and North Point Boulevard have been settings for major pedestrian and traffic hazards, prompting Del. Ric Metzgar, R-6, and officials from the Maryland Department of Transportation to get involved.
Residents live along both roads. Businesses, including gas station convenience stores and restaurants, are also located along these roads. North Point Road's lack of sidewalks present a grave danger to pedestrians either trying to cross or walk alongside the road.
North Point Road has been the setting for many recent traffic accidents, both car-on-car and car-on-pedestrian. The most recent accident, according to the Baltimore County Police Department, happened on Jan. 1. A BCPD patrol vehicle swerved to avoid an oncoming vehicle making a left turn before crashing into a telephone pole. Before that, an accident was on Dec. 10, at the intersection of Sparrows Point and North Point Roads.
The accident was fatal, resulting in the death of Leo George Zimmerman III, 28, of Edgemere. Zimmerman was traveling in his 2004 Chevrolet Silverado when it failed to stop at a red light at the intersection. Zimmerman hit a 2017 Nissan Altima in the intersection. The impact caused the pickup truck to go off the road before impacting with a residence. The other driver was not injured.
On Dec. 1, a wheelchair-bound pedestrian was fatally struck in a crosswalk, at the intersection of North Point and Lodge Farm Roads, in a hit-and-run. According to police, a GMC Sonoma was traveling northbound on North Point Road when it struck the man as he was in a wheelchair attempting to cross in a marked crosswalk. The driver of the GMC did not stop and continued northbound on North Point Road.
The pedestrian, Joseph Stefan, 69, was pronounced dead at the scene. The driver, Nicklos Koltko, 45, from Severna Park in Anne Arundel County, was later found and placed under arrest.
Shirley Caslan is an Edgemere resident who lives just off of North Point Road. She often crosses the busy route on foot for shopping trips, both for herself and her older adult neighbors. She told the Eagle she knew Stefan.
"Sometimes you just don't stand a chance coming across here," Caslan said while pointing at North Point Road. "It's the cars. Some of them don't slow down. Some are inconsiderate. And there are no sidewalks here, as well."
Caslan said she sometimes makes trips to the Dollar General located on the 6800 Block of North Point Road. She said there are no sidewalks along her route.
"I've had them so close to me I've literally had to jump back," Caslan said. "To get to a bus stop I have to [walk along North Point Road]. That's another problem around here."
"There's no buses to get to one. You literally have to walk or catch a cab."
Metzgar and North Point Peninsula Council president Fran Taylor met with state officials from the Maryland Department of Transportation on Jan. 11. The areas of concern were at two locations – North Point Road at the North Point-Edgemere Volunteer Fire Department, and the 7-11 at 5230 North Point Boulevard. The NPPC held a virtual meeting on Jan. 7, where Metzgar announced the walkthrough of both areas. That meeting can be found on the NPPC Facebook™ page.
Taylor said commuter safety in Edgemere has been a concern for him since 1963, when he read an article in a school newspaper that advocated for placing sidewalks in the community. He has been actively involved with highlighting the need for sidewalks since 2003. He currently is the president of the North Point Peninsula Council.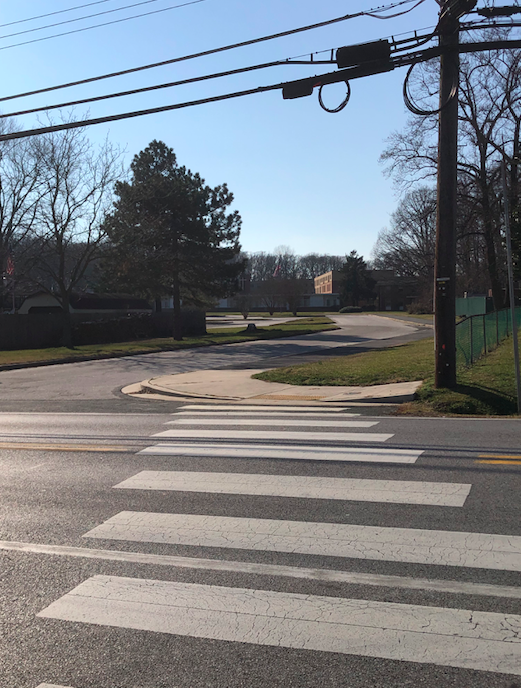 Taylor said Edgemere has a streetscape that was designed in 2010. It begins at the Edgemere Senior Center (6600 North Point Rd.) and runs south to Willow Road, near Shaw's Discover. Taylor said that for Edgemere residents who live on North Point Road, there is only one way in and one way out. Both ends of the road connect to North Point Boulevard.
Caslan said part of her route runs past Sparrows Point Middle and High Schools. The building has a sidewalk in front of it, but only stretches beyond both sides. Caslan said she is on the side of the road once she passes the school.
"For someone in a wheelchair, it's dangerous," Caslan said.
Metzgar said the situation has been a concern for him for "several years now." Jan. 11 was the first time he was able to have state officials visit the community, he said.
"I can tell you that I have been watching it for six years, since I've been in office," Metzgar said. "I realized just today, when I was coming into the 7-11 [on North Point Boulevard], the passway is not safe. It's dangerous right there."
Metzgar said a major concern he hears from constituents that live in Edgemere is the noise factor. Tractor trailers travel both ways on North Point Boulevard during all hours of the day and night, he said. The noise concern has been brought up in community and county meetings in the past.
Metzgar said he has spoken with business owners on North Point Boulevard at and near the problem area. Business owners share concerns of tractor trailers hitting their businesses. Traffic safety and noise safety are his two biggest concerns in the area, he said.
"We have to get safety barriers up," he said. "We have to get these turning lanes corrected. We have to get sound barriers, and we have to figure out a way to get this traffic under control."
Taylor said the issue behind correcting these issues is funding. Taylor said he had a proposed streetscape that he presented to Baltimore County in the past. He was told those plans went against current standards.
"I do have to say that the County has made safety along that business stretch a priority," Taylor said. "I'm very confident that they will come back with something to the community. Maybe not shortly, but we're going to be hearing something."
Taylor said Pete Kriscumus, Director of Community Engagement for Baltimore County, is spearheading this project. The Eagle did not contact Kriscumus before this newspaper went to press. Updated comments from Kriscumus are expected in the Jan. 21 issue.
Taylor said that a wide range of Edgemere residents met virtually with Kriscumus on Dec. 22, including members of the North Point Peninsula Council, St. Luke's Catholic Church. St. Luke's Place and the North Point-Edgemere Volunteer Fire Company. Taylor said County officials have visited the problem areas on these two roads on two different occasions in recent months.
Taylor said he remains in contact with Kriscumus regarding traffic safety. Kriscumus is waiting on Baltimore County to have something concrete before returning to the community, Taylor said.
Caslan said she hopes something can be done soon. Caslan was crossing the street near the North Point Edgemere Volunteer Fire Company when she saw Metzgar, Taylor and state officials from the Maryland Department of Transportation. She shared her hope with the Eagle that something can be done soon.
"In society today, we have to take care of the [older adults]," Caslan said. "Some of them are veterans who served their country."
"I'm 56, so I'm still in some shape. I do what I can [for her neighbors]. Some of these [older adults] don't have family."
The Eagle will continue to monitor this situation and provide updates when they become available.