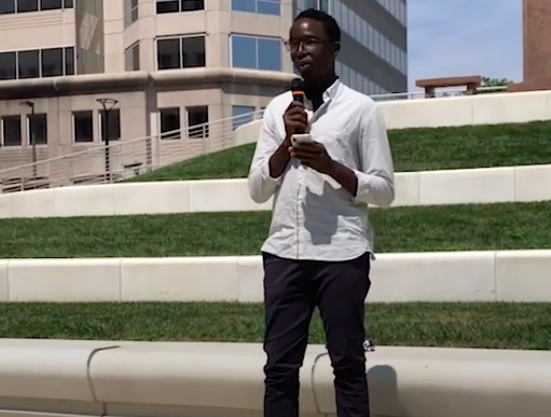 A new grassroots movement, consisting of Baltimore County high school students, held its first rally last week in front of the Baltimore County Circuit Courthouse in Towson.
A group of around 30 students, teachers, administrators and representatives of the NAACP occupied the front lawn in front of the courthouse for just over an hour. Scheduled speakers spoke on the importance of participating in democratic elections, as well as the need for new, equal and inclusive policies for public schools around Baltimore County.
We Are Gen Change, an organization comprised mostly of seniors who live in Towson, has begun raising awareness about unfair policies and curriculums in Baltimore County schools. Also part of the organization, Dundalk High School senior and Baltimore County School Board student representative Joshua Muhumuza.
"Going to Dundalk High School, we usually don't get representation," Muhumuza said. "Whether it's delegates, or on our school board, students in general are not getting attention on issues that are important to them."
"You can walk into Dundalk and see the issues without talking to anybody, from over-crowdedness, to language barriers and curriculum, test scores, everything. This is not an issue about the students. We can't blame the students. We have to talk to the board and talk about these serious issues. I felt what better person who understands their community and who hears their voices."
Muhumuza was elected to the Baltimore County School Board last May, becoming the first student representative in Dundalk.
But he was making an impact before he was sworn in, according to Cheryl Pasteur, a school board member who represents District 2. Pasteur referred to Muhumuza as a scary person," saying he was speaking truth to the school board after he was elected, and continues to do so today.
"Be that scary," Pasteur said. "It's a good scary."
Muhumuza said his predecessor, Pikesville High School graduate Omar Reshid, asked the school board to pass a Black Lives Matter resolution in the wake of the death of George Floyd, a Black Minneapolis man who died while in police custody back in May.
The resolution calls for schools to be safe havens for equality and equity, while also outlining the need to facilitate "courageous conversations concerning systemic racism, social injustice, racial and ethnic bias, and a unified effort of communities and schools coming together" for all students.
Muhumuza said he spoke up because he didn't want the passing of the resolution to be seen as a political issue. "There was some infighting about what the title should be and what the intention was," he said, "and so I called out a board member."
"The main issue was that we cannot allow to politicize issues like this. This is a humanitarian issue. Republican, Democrat or whatever, we've seen Republicans march with us. It's not a political issue, so I called out the board member who made the comments that were insensitive. We ultimately changed the title and made our intentions clear."
Muhumuza spoke to the crowd of around 30 people and told them that he felt he would have to do it himself to see the change he wants. He told the Eagle he wants to stand and speak up for students who don't have a voice.
"I felt what better person than a student who comes from that community and hears their voices," Muhumuza said. "Not just voices of minority students, but students of all colors, and students of all backgrounds."
The time for change is now
Various speakers stood before the crowd, discussing the events currently taking place in the United States, its impact on the country and on Baltimore County. After more instances involving police officers and Black citizens, issues like police brutality and systemic racism are once again at the forefront.
"Right now, us students should be getting ready for the reopening of the school year and dealing with all the tumult that comes with it," Muhumuza said to the crowd. "But this year is a peculiar year."
"Youth around the country and Baltimore find themselves having to petition and rally for a number of issues that, frankly, were ignored by the people in power. For years, our youth and community leaders cried out to lawmakers and those who we entrust to represent our interests."
Muhumuza told the audience that the next step for young people is to educate themselves on issues, mobilize and vote. To see a group of students rise up and start a grassroots movement pertaining to issues of equitable learning in public schools is significant, but these issues are not new.
A 2017 report from the Maryland Equity Project at the University of Maryland found a link between a school's demographic composition and its proficiency rate. The study showed that a school's proficiency rate could be linked to poverty.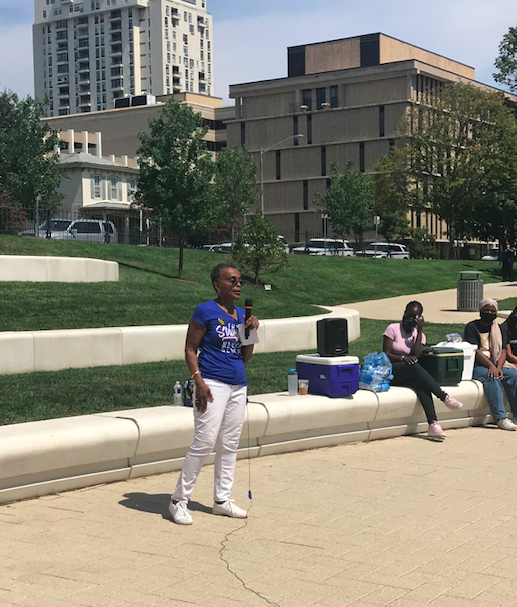 According to one finding, an increase in the percentage of students who qualify for free and reduced price meals (FARM) is strongly correlated with a decrease in school performance, particularly at the state level.
Across the state, for every 10 percentage point increase in enrollment of low-income students in a school, there is about a 5.2 percentage point decrease in school proficiency rate.
Another finding from the 2017 study showed that racial composition of a school was also linked to school proficiency rate, although not as strongly as low-income enrollment.
Black student enrollment in a school was associated with a decrease in school proficiency rates; a 10 percentage point increase in Black student enrollment in a school was associated with a 3.8 percentage point decrease in a school's proficiency rate.
Conversely, white student enrollment was a predictor of an increase in PARCC performance, with a 10 percentage point increase in white student enrollment corresponding to a 3.4 percentage point increase in a school's proficiency rate.
Ruben Amaya, a Franklin High School graduate who currently attends Stevenson University and is the former president of Baltimore County Student Councils, was next to address the crowd.
He began by saying that young people are finding themselves dealing with a lot more issues in the country today.
"Right now, we're plagued with the need to fight for racial justice, climate change, school safety, mental health and the list goes on and on," Amaya said. "I don't need to tell you guys about it. You guys live through it. We all do."
"How do we bring the change we are trying to seek? It's a lot more than tweeting, liking, posting, commenting and sharing. We can't just go home after this and think the job is done. Trust me, this is the fifth rally I've spoken at, and there is so much more to do."
Pasteur told the crowd that now is the time to question, and to enact the change in America they want to see. She told the story about how she was one of the people fighting for change 55 years ago during the Civil Rights era.
"You must be the voice to say now is the time to make some changes, to speak to the America we now live in, so that you don't become me," Pasteur said. "Fifty-five years later, we're still wondering why we are waiting for the change."
"Don't complain because you have to read Huckleberry Finn, and it has a lot of derogatory language in it. Understand the time period. What you should be asking is, why do we still hear in 2020 some of the same derogatory language that is in that book that took place during slavery. Why are we still hearing about people looking at people of color in the same way?"
Pasteur told the students in attendance to not just ask what is missing in America's history. Instead, ask the truth. Ask why you can go through 12 years of school in Baltimore County and never have a black or brown teacher, she said. Ask why schools don't have textbooks written by people of color, she added.
Representatives from the NAACP were also on-hand to offer guidance on how to register to vote, as well as answer questions about polling locations, registration deadlines and how to vote by mail. Parents of students who attended the rally provided refreshments, which were served at the conclusion of the rally.