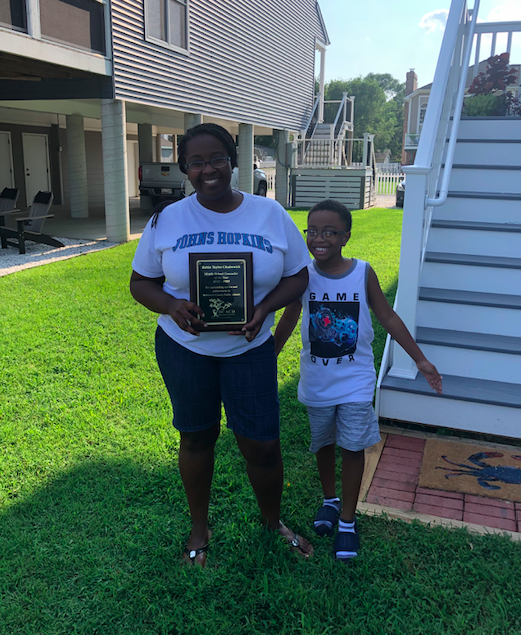 Robin Taylor-Chadwick, a guidance counselor at Sparrows Point Middle School, has been named the 2019-2020 Guidance Counselor of the Year.
The award was announced recently by Baltimore County Public Schools. Taylor-Chadwick accepted the award with a look of both shock and happiness upon her face. The award presentation was part of a surprise party, held in Taylor-Chadwick's honor, at a faculty member's home on Millers Island.
"This is beyond more than I ever thought," Taylor-Chadwick said about being named BCPS Guidance Counselor of the Year. "I was here today because I am getting my second grader ready, and we were upstairs tutoring."
"It was unexpected. I'm happy. Even if I didn't have this, I still love my job and I would do it every day with pleasure."
Taylor-Chadwick has been a guidance counselor at Sparrows Point Middle School for the past six years. A Morgan State University alumnae who also received a master's degree from Johns Hopkins University, Taylor-Chadwick said her inspiration for her career comes from a high school guidance counselor she knew as a teenager.
That guidance counselor's name is Katherine Wickman, who was a Baltimore City Public Schools guidance counselor at the time Taylor-Chadwick attended high school.
"She really pushed me on a path that made sure I would do what I wanted to do, and I could help other people," Taylor-Chadwick said. "She really set the platform for me, and the bar for me."
SPMS principal Jennifer Gounaris said she named Taylor-Chadwick the guidance department chair three years ago. The entire climate transformed after she made that decision, she said.
"There is a real need for our students in the middle school for functioning, getting along with one another, being kind, and respectful and inclusive," Gounaris said. "She has built an entire program around that, and she has inspired the teachers to really be 'relationships-first' with kids and it's been amazing."
Taylor-Chadwick said the thing she loves the most about her job is helping kids get where they're supposed to be and helping them get the most out of their lives. Taylor-Chadwick is one of two guidance counselors at SPMS. The job was already challenging. Throw in a pandemic that forced BCPS to close down all campuses and everyone to adapt overnight to a virtual setting, and managing responsibilities becomes even more challenging.
"[One of the more demanding parts of this job] is managing social and emotional needs, and making sure that we impact them academically the way we're supposed to, as well," she said. "Just making sure we focus on the whole job."
All public schools in the county are set to make a virtual reopening when the 2020=21 academic year begins on Sept. 8. Taylor-Chadwick said the guidance department is continuing to adapt to this new virtual environment.
Educators will be head special advisor groups, and each educator will serve as a mentor for an assigned number of students. Taylor-Chadwick and Alysha Gordon, the only other guidance counselor at SPMS, will serve as co-pilots when the program begins, Taylor-Chadwick said.