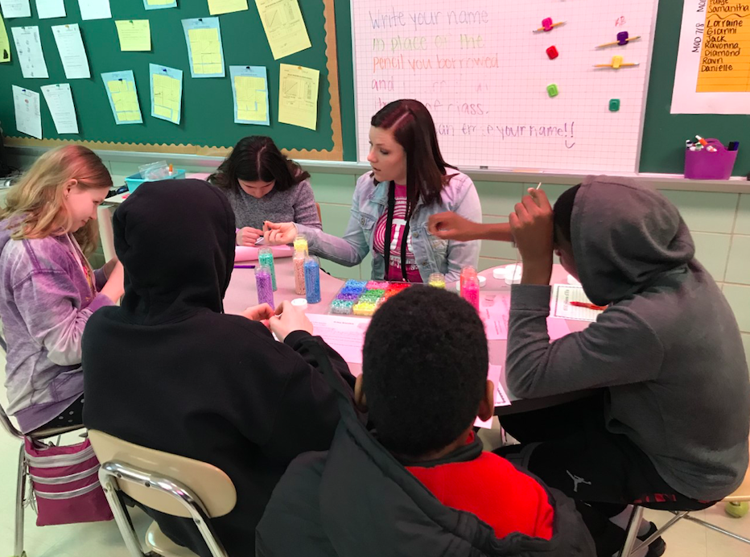 Avery Lane teaches self-contained mathematics at the seventh grade level at General John Stricker Middle School. She is also the chair of the middle school's special education department. She has been an educator for six years,
Lane said she felt honored and excited after learning that she was named a Teacher of the Year by the Greater Dundalk Chamber of Commerce. "I didn't expect to be picked because I always feel like there is more that I could be doing," she said.
"I feel like I see teachers around me who are more involved in the community. I'm trying to find ways to connect with the Dundalk community better. I really love my students, so it's an honor and rewarding for me to feel like my hard work has paid off."
Lane said that despite her position being difficult at times, she loves being a teacher at Stricker Middle School. "I'm really grateful," she said.
Lane said she knew she wanted to be a teacher as far back as when she was three years old. She comes from Abingdon, Maryland, from a family of teachers and mechanics, she said, with her father, who was a teacher, being her biggest inspiration.
Lane said she continued to find inspiration from her teachers while attending school. Her eighth grade teacher, who also is employed by Baltimore County Public Schools, was one of her main inspirations, she said. This continued as she went through high school.
"It was in high school that I found a love for special education," Lane said. "I had a neighbor who had autism. As my neighbors and I would wait at the bus stop every day, I noticed how some of them were afraid of him and wouldn't talk to him. Some of them would talk to him like he was a baby."
"I was the only one who talked to him like he was 'on my level.' I talked to him like a real person. He latched on to me, and I found that I had a way with students who have disabilities."
Lane said she was able to get an internship through the Teacher Academy of Maryland while in high school. There, she was able to work with middle school students with disabilities. She took on another internship, working with BCPS, while attending Towson University, she said. That is the reason she works at a Baltimore County public school today.
As for being a mathematics teacher, Lane said she struggled with math when she was in middle school. "I remember it being easy in elementary school, and then it was like I got slapped in the face with a textbook in middle school," she said.
"I had no idea what to do. I was always afraid to ask questions, like many students I meet every school year. I knew what it was like to struggle with math and to not be willing to receive the help."