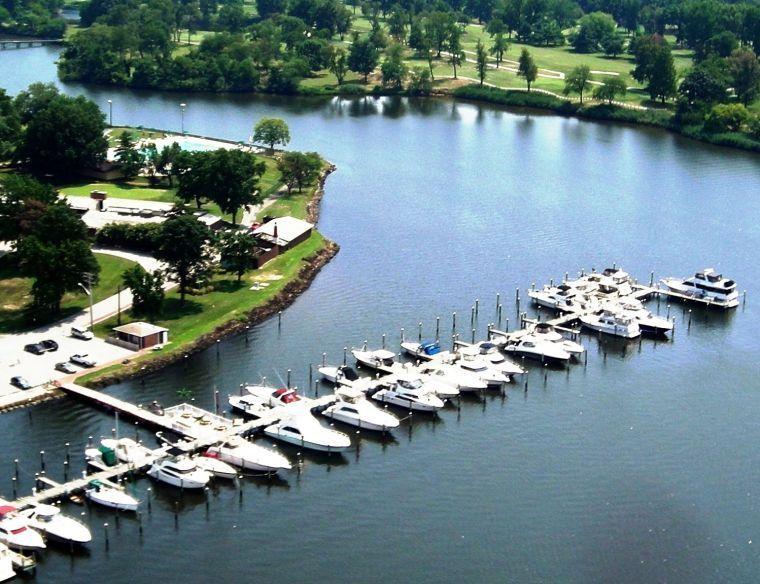 The members of the Sparrows Point Country Club met last week to determine the club's fate.
Said fate remains undetermined, a victim of failed technology that forced the vote to be delayed three weeks.
And all while the country club has a Sword of Damocles hanging over its head, in the form of a mortgage that will be foreclosed on November 30.
To approve the solution being offered by the club's Board of Governors, 181 of the club's 271 members had to vote "yes."
Due to various reasons — but mainly the COVID-19 pandemic — around 125 of the club's members chose not to attend in person, but followed the proceedings on Zoom.
Zoom wouldn't work. Many of the members listening could not get any audio. After trying to fix the problem,. the meeting was eventually adjourned without a vote and rescheduled.
The Sparrows Point Country Club has a mortgage of approximately $3.1 million, and the group holding the mortgage wants it paid off by Nov. 30 or it will foreclose.
The club also owes about $1.5 million in past debt to venders and other creditors (property taxes, water bills) who can sue for payment.
If the foreclosure happens and creditors sue for payment, Sparrows Point will have to file for bankruptcy and lose control of all its assets.
To avoid bankruptcy, the Sparrows Point Board has revised its contract with the developer that will be building residences on a portion of the club property to "use the revenue from the revised deal to pay down our debt and improve our capital assets," Club president Ron Belbot said in an email to club members.
"Not doing the proposed deal with the developer gives us no path to recovery," Belbot wrote. "The goal is to keep the development on track, eliminate the Club's debt, create funds to modernize the Club's facilities, create a path for financial viability in the future and provide an opportunity to buy back the Club's remaining properties for those members who may wish to do so."
The new contract, presented to club members (those in attendance and those whose Zoom audio worked) on Oct. 27, will sell all of Sparrows Point's 271 acres, all of its improvements and all other assets to CRD Golf.
The purchase price would be $4,250,000 paid in cash at closing, which would satisfy 100 percent of the mortgage debt and all other secured debt, as well as 80 percent of all unsecured debt owed by the Club.
After the purchase, CRD Golf would be obligated to spend $5.5 million on capital improvements to the country club.
A new entity (ROFO NewCO) would be formed to operate the club. SPCC members would have an option to buy back the club, for the same price as CRD's "carry costs" for owning and managing the golf course.
(ROFO = "Right of First Offer" to buy the club.)
The price to purchase the property could be anywhere from $1.2 million to $3.4 million depending upon the time from closing it is offered.
"I would like to believe there is a better deal out there," said Brian Sheahan, a corporate partner and general counsel to the Club. "But over the last two-and-a-half years of the restructuring, we haven't found one."
"This is a distressed business. We haven't made money for three years. It's a challenging scenario to offer someone to partner with us. We have a beautiful property here, but it's only worth what someone is willing to pay for it."
The Club is out of cash, and has been for a long time, Sheahan said.
"This has been coming for a long time. There is no path to being a profitable business," Sheahan said. "But bankruptcy should be an absolute last resort."
A bankruptcy judge, Sheahan warned, could decide the club is too far under water for any plan to work, and send the property to auction.
Lisa Tancredi, another member of the SPCC legal team, cautioned "in bankruptcy, all your choices are taken away from you. How can you plan events when you're in bankruptcy? Retain and gain members? Host weddings?"
Members complained they had been "kept in the dark" for a long period of time, only to have this plan sprung on them at the last minute.
In answer to other questions, it was explained Sparrows Point Country Club Inc. would cease to exist, but a new entity would be created which would be able to buy back the property.
Every member of the SPCC would be given the right to join this new entity.
The next meeting is scheduled for Nov. 17. Again, 181 members must vote "yes" on the proposed contract. Not voting is considered a "no" vote.
"Some of you see bankruptcy as the preferred route," Sheahan said at the close of the meeting. "That is fool's gold. But if anyone here feels there is a superior offer, to what is up there, we have a fiduciary duty to entertain it.
It has to be real, it has to be quick, and you have to be comfortable with little due diligence. I would hate for us to sit here and bemoan the unintended consequences because we made an uninformed decision."