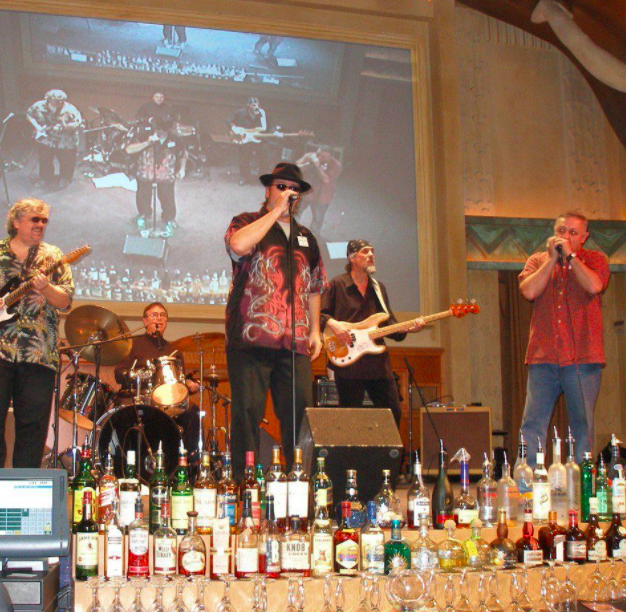 Eddie Crowe grew up in Colgate and then worked at Bethlehem Steel for several decades, but his passion always led him right back to the blues. Now, he has a vision to turn Baltimore into America's next great blues city.
Crowe has traveled across the country as a blues musician. He has performed on the east coast, in Memphis, Tennessee, and in California. He started as a drummer, putting his name out and being a part of every gig he could. Years later, he was a professional musician traveling the country. He also worked at the steel mill in Sparrows Point for more than 30 years.
"I was known as the 'Blues Man' in my department," Crowe said. "They knew I wasn't going to hang around on a Friday night. Chances are, I wasn't going to be there. I'd be out rocking the boogie-woogie somewhere."
Crowe's life with the blues started in Dundalk. He would invite people to his Dundalk home to rehearse. It was a band house, as he called it. One night, he invited friends over who were all members of a band called The Deal.
Crowe said he had a set of drums in his home that he never played. But after his friends began rehearsing at his home, he began to learn. He said he would get off work at midnight, and go home and sleep. By 9:30 a.m., he was on the drum set and learning to play. Once he got the hang of the drums, he filled in on nights The Deal's drummer didn't show.
Before long, Crowe was performing in North Carolina. He would work his regular shifts at Bethlehem Steel, and then travel to North Carolina for a gig. He used to travel over 400 miles one way to make that happen. He racked up as many as 50,000 miles on his vehicle in a year, he said.
"I wasn't flashy or nothing like that, but I could keep time and my rhythms were good," Crowe said. "By the time I went to North Carolina, I could already play some blues. I already knew I could play."
Crowe equates Baltimore to that of Notodden, Norway. Notodden was a booming factory town from the early 20th century until 1987, when factories began closing and people began losing their jobs. With no jobs and no clear vision for the future, musicians in Notodden came together and created what is now one of the biggest blues festivals in the world.
The workers in Notodden pursued their own interests when they weren't in the factories. Many of these workers took up playing music. Around the same time, during the 1960s, rock music artists like Elvis Pressley and Chuck Berry could be heard across airwaves in Norway.
Bands began forming soon after, and there were as many as 20 blues bands in Norway by the mid-1980s. Then, everything began to close. Rather than wallow in self-pity or look for work elsewhere, the citizens came together and formed what eventually became the Notodden Blues Festival.
"That town is going to tell the story of how Baltimore can do it," Crowe said. "It's all about musicians. Every music city there is that was ever started is because of a musician. I figure, why not Baltimore."
"I paid my dues in Baltimore. I did my 30 years at Bethlehem Steel in Baltimore. I've played the blues for 25 years in Baltimore, starting with the Baltimore Museum of Art."
Crowe's music has already been heard in Baltimore. One of his original songs, "Fishin' on the Chesapeake Bay," was played on WJZ 105.7 FM in Baltimore City. Crowe said that Steve Rouse had the No. 1 morning radio show in Baltimore at the time.
Crowe said he tried to get his song on the radio because it was around the same time as the Chesapeake Bay Blues Festival. His line of thinking led him to think that if he wrote a song about the Chesapeake Bay, it could be on the radio, he said.
"I tried to get that going, but it never did materialize," Crowe said. "At the same time, I tried the song out on a few people and they had liked it. I figured I would call a deejay and see what they think of it."
"I wound up on the phone with Steve Rouse. I was laying in bed, actually, at 9 o'clock in the morning. My voice was hoarse from partying and singing and having a good time the past few days. When he answered the phone, I said 'I'm a blues singer.'"
Crowe said he performed the song, and then Rouse had him sing it again. This time, he was live on air with another person playing along with him. He said he didn't know it, but his song was being recorded. It was a Monday morning. Crowe said his song played on WJZ during the mornings over the course of the rest of the week.
"I hung the phone up, and a couple of people called and asked if it was me on the radio," Crowe said. "I thought it was cool that people heard it, so maybe the guys at work heard it. I didn't have proof. I didn't have a recording of it."
Today, Crowe spends his days in Red Lion, Pennsylvania. He no longer performs. The long nights traveling and the long days of performing on stages is now in the past. What hasn't faded, however, is Crowe's vision for Baltimore.
"I'm fired up about this," Crowe said. "I can really see this vision. It ain't going away. It's just so clear to me. It's just a shame that nobody knows about it."
Like Notodden, Crowe believes that a few musicians can come together and use their love of the blues to turn Baltimore into the next great music city.