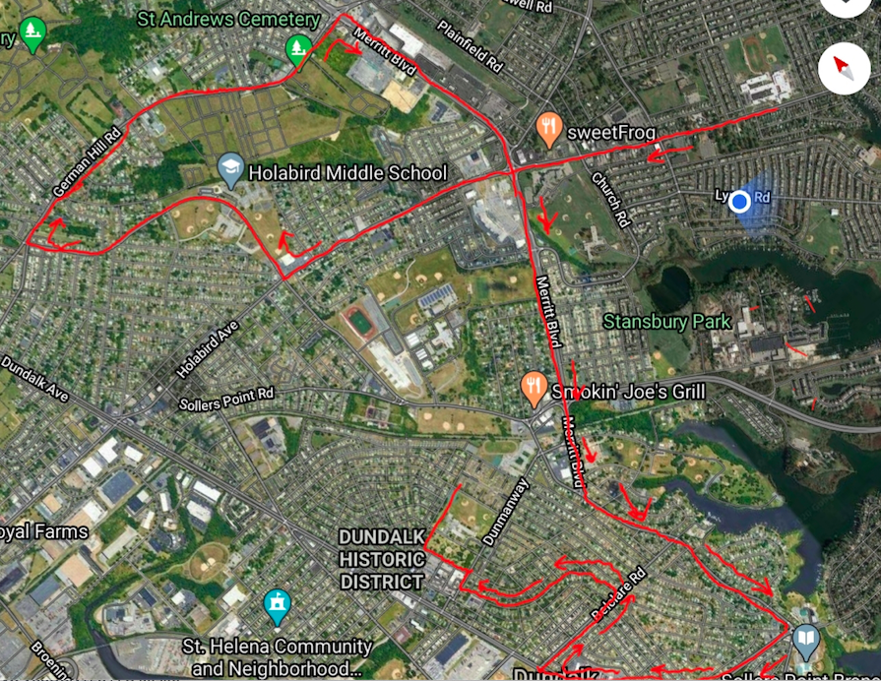 The Dundalk Parade Committee is excited to announce the Dundalk Independence Day Community Caravan Celebration taking place on July 4 at 9:30 a.m. in absence of the "traditional" Parade this year. Independence Day is one of the most celebrated holidays for Dundalkians.
With that in mind there was no hesitation of the Parade Committee to do something to celebrate our Nation's Independence! The Community Caravan Celebration route is extended from the traditional 2.5 miles to an 8.1 mile route to encourage greater social distancing but still allowing for viewers to safely see the procession. The route will wind its way through the major streets of Dundalk but include portions of the "traditional" Parade route. Beginning on Wise Avenue the route will cross over Merritt Boulevard and continue on Holabird Avenue, making a right on Delvale Avenue to German Hill Road, turning right on German Hill Road to Merritt Boulevard, turning right on Merritt Boulevard to Sollers Point Road, turning left on Sollers Point Road to the traffic circle in Watersedge, taking the circle exit to Dundalk Avenue, turning right on Belclare Road to Liberty Parkway, turning left on Liberty Parkway to Dunglow, veering left at Dunglow Road to Dunmanway, turning right on Dunmanway to Trading Place, turning left on Trading Place to Shipway, turning right to Shipway to end in front of Dundalk Elementary School.
It is with great sadness, that this year's Fourth of July festivities take place without the watchful eye of Mr. Joe Falbo. As the President of the Heritage Association of Dundalk he ran the Heritage Fair, Dundalk fireworks, and had the Heritage Association dedicate funds to sponsor bands in the Dundalk Independence Day Parade. "We know Joe is watching over us and we hope to make him proud, even during these difficult times," says Will Feuer Co-chair of the Parade Committee. The Parade Committee honors his memory and we recognize all that he has done for Dundalk with an entry in the Caravan.
Michael Andy will be the 2020 Grand Marshall of the Community Caravan Celebration. Mike is a very active member of the Dundalk Historical Society, chairing the Dundalk Patapsco Neck Historical Society Christmas Train Garden for 20 years, starting it with his personal collection of trains in 2000. He is a designer, layout builder, and engineer, there almost everyday during the viewing season to "run" the trains. Mike also helps with the Historical Society's Luminary Night filling the bags with sand and candles and decorating the park around the Historical Society building. He also works on the Defenders Day Committee, helping to plan the end of summer event at Fort Howard, which celebrates the valiant efforts of local residents in the 1814 Battle of North Point. Every year for at least the last decade Mike can be found doing the preannouncing at the Dundalk Independence Day Parade, setting up the main stage at 5:30 in the morning and then working in the July heat to slow the entries down and allow them to perform in front of the judges. "Mike is an asset on the Parade Committee. Anytime we have a question or need help with anything he is the first one to raise his hand. Dundalk should be honored to call him their own and I am privileged to call him my friend" says Will Feuer.
You wouldn't know all that Mike does because he doesn't tell you, he just does it because he cares about Dundalk. It is fitting that he should lead the Caravan through his town.
Mike will ride with John Purkey in the lead fire engine directing the caravan. A retired firefighter, "Purkey" owns several fire engines and keeps them in pristine condition to ride in parades and shows throughout the county. Not only has "Purkey" had fire engines in the Dundalk Independence Day Parade, he also delivers Santa Claus for the Christmas Tree Lighting, and new this year, the Easter Bunny Parade.
Following the lead fire engine will be:
Aaron Lewis Military flag truck
American Legion Post 38 Honor Guard (joining procession at Belclare Road)
Relay for Life driven by Michael Lepock (joining procession at Belclare Road)
Dennis McCartney McShane Bell and Joe Falbo memorial
Miller Brothers 1926 Model T Ford Truck escorting Marlene Miller Rydzewski
Catonsville Parade Committee members
Mr. Tom, Chair of the Mayor's Christmas Parade and Ms. Sharen Kerr
Ms. Irene Spatafore and Angels Supporting Our Troops
Schweigman 1951 Ward LaFrance Pumper Fire truck
Greater Dundalk Chamber of Commerce
Dundalk Renaissance Corporation
Clean Bread and Cheese Creek
9/11 Rolling Memorial by Charles Ritz
Victoria Bechtel Purple Jeep with Lady Liberty
Baltimore Blast Cheerleaders escorted by Seahorse Inn Humvees (2 Humvees)
Dundalk Patapsco Neck Historical Society and Museum, with Joe and Suzanne Stadler and Shirley Gregory
John Melzer and Shaun the Sheep, Cleaning up Dundalk
Can Am Spyder driven by Tina Weber
Baltimore Hon Hive, escorted by Don Kight
American Eagle escorted by Will and Stacey Kelly
Maryland Waterways Foundation
Baltimore Batman and the Batmobile
Orioles Car driven by Gregory Hudnet
U-Haul Company of Baltimore
Grace Construction Triple Axle Dump truck
Back River Restoration Committee
Santa Brian Marchetti and Mrs. Wendy Claus
Dundalk Independence Day Parade Board: Will Feuer, Mike Mioduszewski, Michael Andy, Victoria Bechtel, Jessica Lilli, Dennis McCartney, Megan Ann Mioduszewski, Roy Moreland, James Shirk, and Rosie Tallon.
Parade Support Team: Bill Barry, Kim Bowen, Bob Crandell, Dawn Dishon-Feuer, Debbie Feuer, Bryan Shirk, Jason Mincher, Ken Moreland, Baltimore County Police Corporal Walker, Robert Carrigan, Tammy Jankiewicz, Bill Jankiewicz, Rick Slayton, and Jason Slayton.
The Dundalk Parade Committee reinforces all Maryland and Baltimore County Covid-19 rules and restrictions in place for anyone coming out to watch the Dundalk Community Caravan Celebration. When leaving your home the CDC recommends and the Dundalk Parade Committee strongly encourages that spectators: wear a cloth face covering when less than 6 feet apart from other people, use social distancing (stay at least six feet away from others), and wash your hands with soap and water for at least 20 seconds when you get home.