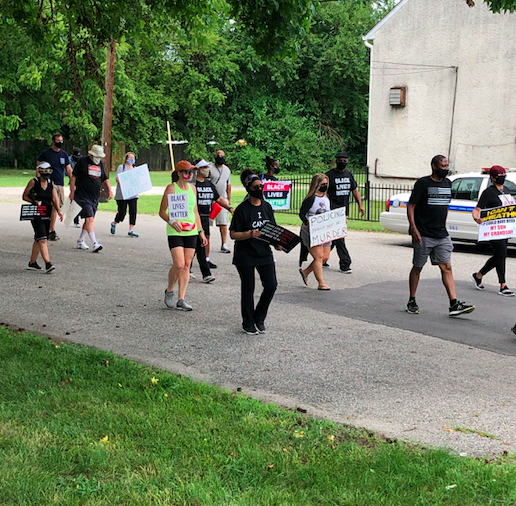 A nationwide movement was witnessed at a local level this past weekend, as residents of Turner Station and Dundalk marched for equality and an end to police brutality.
The Black Lives Matter peaceful protest and rally was organized by local pastors, community leaders and Turner Station residents to give a voice to those who are disenfranchised, according to Rev. Kay Albury, pastor of St. Matthew's Church in Turner Station.
"I've been a pastor in this community for seven years," Albury said. "I've become somewhat despondent in terms of some of the equity; housing, jobs and the growing homeless groups of people. It breaks my heart.
"There are disenfranchised people among us, but it doesn't have to stay that way. We can make a difference."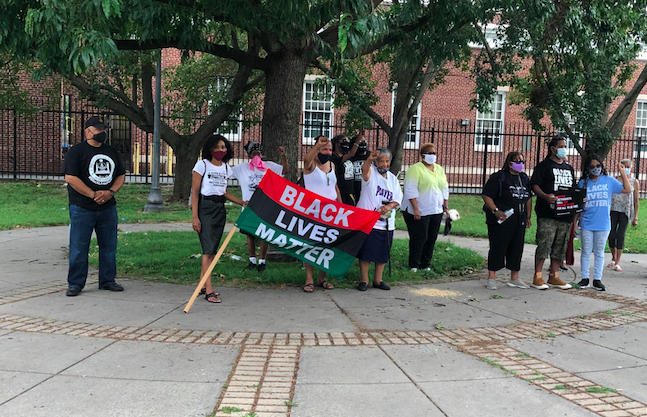 Albury said one change she wants to see is a housing solution for the homeless population in Dundalk. She has witnessed people sleeping in their vehicles on church property she said, adding that there have been instances of people breaking into church buildings because they had nowhere to go.
Protesters gathered at Turner Station Park for a short rally before beginning the march. Speakers addressed the crowd that was spread out around a pavilion before they made the long walk from the park to Dundalk's historic downtown district. Crystal Francis, who is the District 6 representative for the Baltimore County Democratic Central Committee, said the marchers were there to bring awareness to the need to change structural racism and instill a justice system that serves the needs of everyone.
"We're out here because we want to go from protest to policy," Francis said, referring to police reform legislation recently introduced by Baltimore County Councilman Julian Jones, D-4.
"We want those pieces of legislation to pass, because we know that when we have policy, we can get the resources that we need to ensure that our police officers can not only do their job, but really do it in an equitable way.".
Francis said that as many as 10 people, who she called "friends of southeast Baltimore County," were involved in organizing the protest.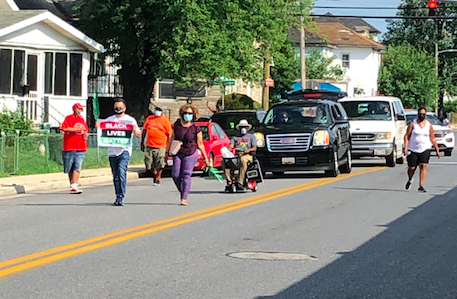 "They're just community leaders and pastors that live in the district that care about the issues," Francis said. "We want people to know that we're going to continue to march until we see policy."
Alejandra Ivanovich, who was once the treasurer for the Henrietta Lacks Legacy Group, returned to Turner Station to join her fellow community members.
"I'm here because, as a Latino woman and as a community advocate, I believe in supporting each other," Ivanovich said. "I believe in justice, and really, this country needs change."
"What's happening as far as police brutality towards our African-American brothers and sisters is not right, and we need change. I felt that by me showing up, maybe I could make a difference, and show others that all you have to do is show up."
As many as 75 people joined the march. Wearing masks and practicing social distancing, the demonstrators started on Avondale Road in Turner Station, making their way to Main Street. From Main Street they took to Dundalk Avenue, heading north towards downtown.
Those 75 protesters took a risk during a pandemic, assembling a large gathering, to demand change. Francis said it was important because it lets people know that the community is "sick and tired."
"When people are sick and tired of being sick and tired, they get up and do something about it," Francis said. "When you look back at the Civil Rights era, African-Americans were going through so many changes. You can see now how it has shifted. We have people out here that are Hispanic and [white], and people are just tired, and they want their voices to be heard."
"They willing to do whatever it is that they can, to even risk coming out during a pandemic, to enure that our leaders who have the capacity to pass these policies do the right thing."
As they marched, they chanted "No justice, no peace" and "I can't breathe." They marched along a preplanned route and were joined by Jones and Olszewski. Olszewski's office did not respond to our request for a comment on why he attended the protest before this newspaper went to press.
Jones said it is comforting to him to see so many people stand up and demand change. "To be quite frank, sometimes I don't think there's enough participation by citizens in what's going on in their government," he said.
"It's comforting to see these people in this community here in Dundalk demand change, and I've been seeing this take place throughout Baltimore County."
Jones's bill, which is expected to be voted on by the Baltimore County Council on Aug. 3, calls for a certain level of required training for every police officer each year, pertaining to de-escalation techniques, implicit bias training and other things of that nature, he said. If the bill were to become law, it would define when a police officer should use force, and would also reform hiring procedures. An example of this is if a police officer who was reprimanded by their previous agency could not be hired by BCPD, Jones said.
Demonstrating is just one way that protesters are putting their message out, Francis said. People are taking to social media, sharing memes and posting supportive messages. Media organizations are using social media to educate people about their cause, she said.
"You see the body cam footage of the injustices happening circulating, and I think that is what triggered it," Francis said. "When you hear about it, it's one thing. When you see it, how can you not say something. How can you not stand up against it."
Francis said those who are interested in learning about future events, or who want to learn more about the cause, can visit the Friends of Southeast Baltimore County page on Facebook™. Albury said she wants to make it clear that everything organized by the Friends of Southeast Baltimore County is peaceful, and that they are not interested in destroying property or looting.
Albury said it was a good feeling to see people of different backgrounds for a common cause, which included people belonging to younger generations.
"That's hopeful, because that's the way it needs to go," she said.