DUNDALK— On Saturday, Jan. 25, The Dundalk Renaissance Corporation hosted a dual ribbon cutting ceremony for Plush Hair Salon and Then and Again, with both businesses looking to serve and cater to the community of Dundalk.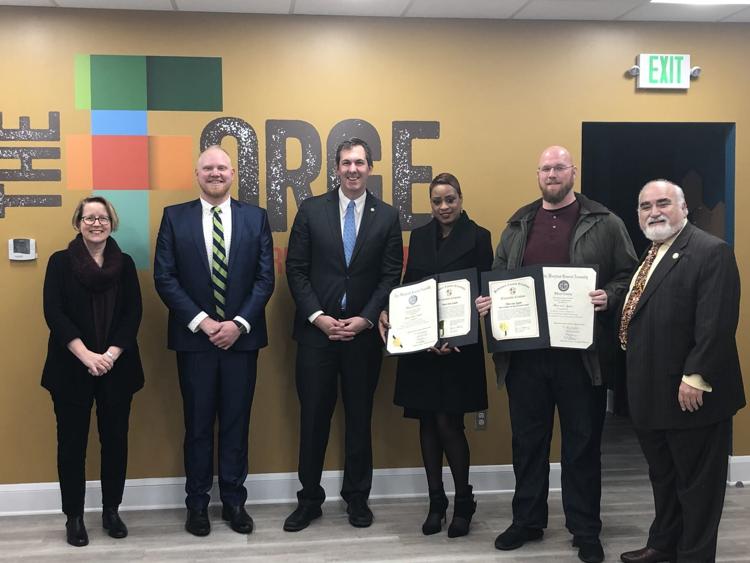 The two new establishments are recipients of DRC's Commercial Improvement Grant Program, provided by the State of Maryland's Baltimore Regional Neighborhood Initiative Grant.
The Commercial Improvement Grant Program provides funding to new and existing businesses to make capital improvements to their location.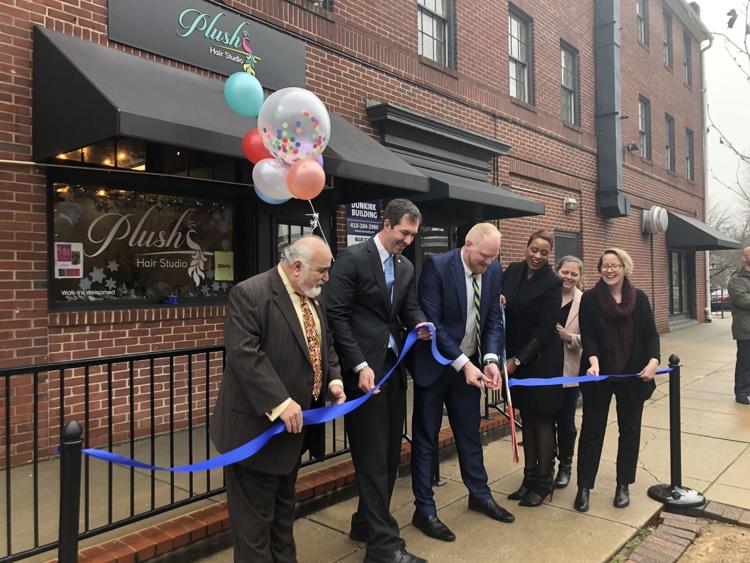 Plush Hair Studio used its $10,000 grant to have new electrical work done, new flooring laid, and signage both inside and out. Then & Again used its $10,000 grant to acquire new block letter signage, which is under construction, and new lettering on their windows.
Baltimore County Executive Johnny Olszewski welcomed business owners Michael Winkler, Rachel Wright and Laticia Braxton and thanked them for investing in Dundalk.
"These two are going to be anchors for the community," Olszewski said. "It's what strengthens us, it's what sustains us, it's what provides jobs and we're so happy to have you here."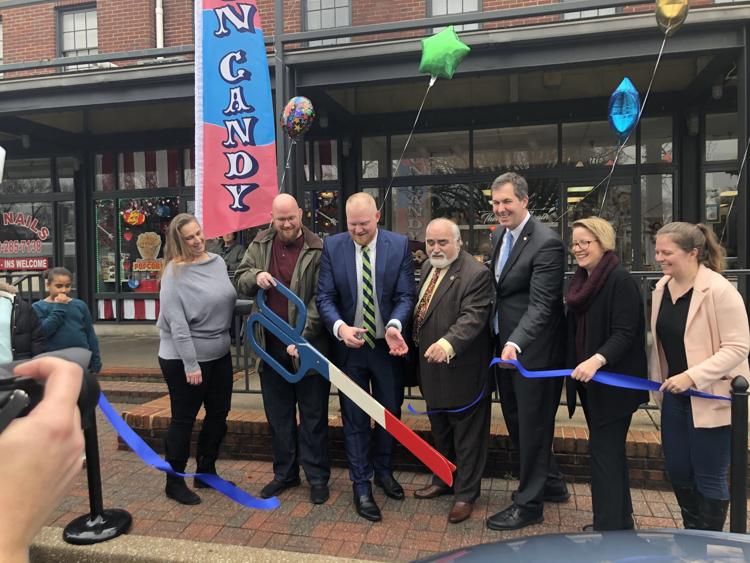 Olszewski presented executive citations on behalf of the 850,000 residents of Baltimore County, welcoming their business to Baltimore County.
Del. Ric Metzgar, R-6, was excited to have an opportunity to celebrate two ribbon cuttings in one day. "That's exciting," Metzgar said. "I get excited about creating jobs, it creates the tax base for our area, so thats a good thing."
Metzgar presented a citation on behalf of the Maryland General Assembly.
Braxton, who is not a cosmetologist, said she was happy to be able to provide an opportunity for stylists and barbers in the area to have a professional area to cater to their clients.
"This is my first shot at a hair studio," Braxton said. "I am not a cosmetologist myself, I saw an opportunity to provide a professional space for stylists and barbers in this area. I saw that there was a need for new stylist and barbers, who aren't sure where they want to be. This is a great space for them to get started."
As a senior commercial manager for Blue Ocean Realty and a licensed retailer, this is another business venture for Braxton.
Winkler said since he and Rachel opened Then and Again, a complete second hand store, on Oct. 24, it's been wonderful.
"This journey is just beginning for us and the community of Dundalk. Everyone who has come into the store so far has absolutely loved it and said this is what Dundalk has needed. So, we're hoping to be able to provide that and be apart of that, honestly, for the rest of our lives," Winkler said.
According to Winkler, Everyone who comes into Then and Again, has been extremely supportive.
"They love the store and we're happy to be able to provide this to the community, being that I'm from here. I remember this store as many other things over the years and it's great to be here," Winkler said.
Winkler and Wright, who co-own Then and Again, get donations and travel Maryland to get their products from storage auctions. They sort through what the find and put it out for sale.
At Then and Again, they offer things below responsible pricing and are amazed at what people have been drawn to, like silverware books and clothing.
The Family Crisis Center of Baltimore County, Dundalk and Then and Again have partnered up to provide a place for people at the center to get vouchers to shop and get clothes.
"That's really exciting for us because we want to be here for the community," Winkler said.
Both Plush Hair Salon and Then and Again are open for business and ready to serve Dundalk.