Rec and Parks members can request use of indoor facilities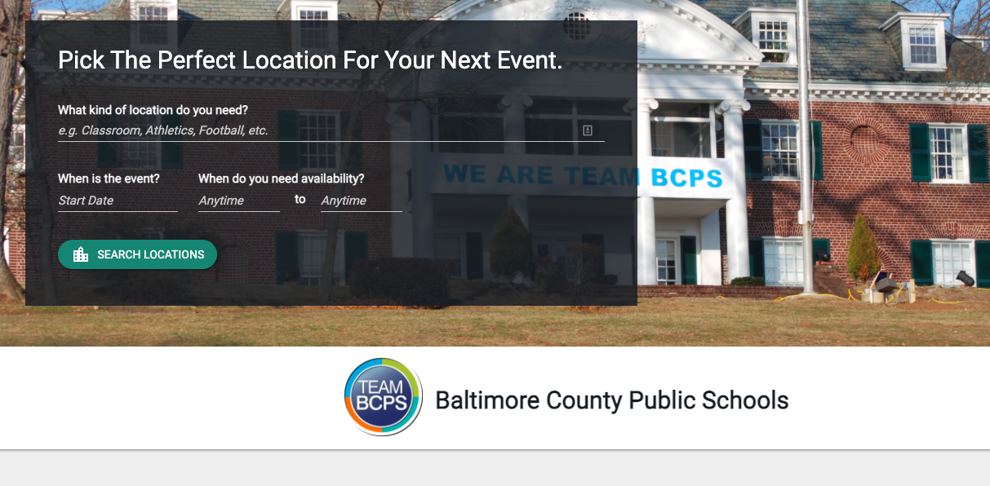 Beginning May 17, members of Baltimore County Rec and Parks can submit requests to use Baltimore County Public Schools indoor facilities. To submit a request, go to the Event Manager use of facilities link at https://events.dudesolutions.com/community/baltimorecntyps. This is the same place to submit outdoor requests.
On the same page, under the Community Resources tab, interested parties can view a video that walks users through the application process.
Virtual diversity teacher job fair coming May 14
BCPS is seeking to hire teachers of color, male teachers, and bilingual teachers in all content areas. At the Virtual Diversity Teacher Job Fair, applicants will have the opportunity to meet virtually with principals and talk with human resource representatives.
Applicants will also discover how BCPS supports new teachers, provides opportunities for continued professional development, and develops future leaders. Benefits for teachers include health insurance, dental, vision, retirement plans, and paid leave. To participate, please apply online at https://a1-3.applitrack.com/bcps/onlineapp/.
Sparrows Point students place in top 10 at Future Business Leaders conference
– More than 150 Baltimore County Public Schools students placed in the top 10 in their events at the 2021 Future Business Leaders of America (FBLA) State Conference. Students who placed in the top four of their events may move on to compete at the online national conference in June. Students from 10 Baltimore County public high schools participated in this year's online FBLA State Conference. Participating high schools were Catonsville, Chesapeake, Dulaney, Eastern Tech, Hereford, New Town, Loch Raven, Pikesville, Sparrows Point, and Woodlawn. During the event, held throughout March and April, conference attendees participated in individual and team competitions and workshops offered by students and industry professionals. Some of the competitions were online objective-based tests, while others were taped/pre-made presentations, or an interactive meeting with a judge from business and industry. The conference was planned by the FBLA state officer team, which includes three BCPS students – Kathy Yao of Dulaney High School, state president; Vinay Khosla of Dulaney High School, state secretarytreasurer; and Neha Mupparapu of Eastern Technical High School, Region 2 vice president. Elections for 2021-2022 state officers were held during the conference and two BCPS students won seats. Aaron Ren of Dulaney High was elected reporter-historian, and Noah Duncan of Eastern Technical High was elected Region 2 vice president.
The following Sparrows Point students placed in the top 10 in their respective FBLA state conference events:
3rd – Noah Gardner, Zachary Haines, Caitlyn Matheny, and Joel Robinson
Colgate Elementary's Ksit, Lrhazouli earn exceptional honors at BCPS Composition Project
Baltimore County Public Schools students – from elementary to high school – took the theme "The World and You" and created imaginative, accomplished, and stirring pieces of music to enter into the 4th Annual BCPS Composition Project. The BCPS Office of Music and Dance Education has announced that entries submitted by 11 students have earned Distinguished Honors and Exceptional Honors. Another 11 students earned Honorable Mentions for their compositions. This year's theme, "The World and You," drew from the personal inspirations and experiences of the student composers. "Congratulations to all students who composed and submitted their own original work this year," said Shane Jensen, BCPS music specialist. "Every student who submitted work should be extremely proud and will receive feedback from the project adjudicators. Music teachers — thank you for your dedication in guiding students through the composition process. We appreciate all you have done!"
Mehdi Ksit and Hiba Lrhazouli, whom both attend Colgate Elementary School, earned exceptional honors in the Elementary School category. Ksit earned exceptional honors for "Soul Filled," a relaxing jazz tune. Lrhazouli earned honors for "Save the Climate," a minute-long tune that features original lyrics over piano accompaniment.
BCPS seeks parent interest in virtual learning for next school year
Baltimore County Public Schools is planning to offer the Virtual Learning Program for any student in Kindergarten through Grade 12 for the 2021-2022 school year. The BCPS Virtual Learning Program will provide full-time virtual instruction from BCPS staff, including live (synchronous) instruction and anytime (asynchronous) learning. Families will be asked to commit for the school year. In addition, BCPS will provide full-time, in-person instruction, five days a week, for any student for the 2021-2022 school year, pending the latest health and safety guidelines. To assist with planning the Virtual Learning Program, BCPS is asking interested families to complete a quick online form by May 7 at 5 p.m. Families choosing full-time, in-person learning do not need to do anything. In coming weeks, families will be invited to enroll in the Virtual Learning Program. More program details will be provided at that time, including a list of courses that will not be available through the BCPS Virtual Learning Program. Students enrolling in the BCPS Virtual Learning Program will also remain enrolled in their BCPS school. As a BCPS student, they may participate in meals, sports, extracurricular activities, and other opportunities. Plans for the BCPS Virtual Learning Program will be based on approval and funding.
Dundalk's Muhumuza accepted to Yale University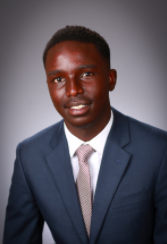 Dundalk High School senior Josh Muhumuza will soon call a new place home – New Haven, Connecticut. Muhumuza announced last week via social media that he has been accepted into the 2025 graduating class at Yale University.
Muhumuza is the current student member of the Baltimore County School Board, being elected to the position by BCPS high school students last year. Muhumuza is the first student Board member from Dundalk High School.
"I'm thankful for the teachers, friends, family members and mentors that have inspired me throughout my academic journey," Muhumuza wrote on his personal Facebook™ timeline. "Most importantly, I thank my mother – for keeping grounded, and being my number one counselor and supporter.
"I am deeply honored and ecstatic to be a part of Yale's community."
Muhumuza included a dog emoji in his post. Yale's mascot is the bulldog.
Spectators allowed at BCPS spring sports events
– Baltimore County Public Schools will continue to allow spectators at athletic games for the spring season beginning Friday, May 7. BCPS will continue to provide opportunities for three spectators per athlete per game. At some smaller facilities, adjustments may be made to accommodate spectators safely, under current social distancing guidelines. Masks and social distancing for spectators, coaches, and officials will continue to be required. Student athletes may remove their masks when competing or conditioning in practice. Student athletes must wear their masks at all other times. School system leaders appreciate the support the Baltimore County community provides for the safe implementation of athletic programs at county schools. Tickets are $5 each (plus a service fee), paperless, and are needed for entrance to permitted athletic events. To purchase tickets, download the Ticket Spicket app or go to the Ticket Spicket website to find games. An online quick start guide and video on buying tickets and checking in provide additional directions.
Baltimore County Public Library to open for limited, public browsing on May 17
Baltimore County Public Library will open for limited, in-person browsing on Monday, May 17. Seventeen branches will open to the public at 30 percent capacity while the library's popular curbside service option will remain in place indefinitely. Extended loan fees will continue to be waived indefinitely.
All visitors must complete a health screening at bacosafe.org prior to entering. Those age 5 and over must wear a mask covering their nose and mouth at all times.
New public browsing hours will be:
Monday through Thursday, 10 a.m. to 6 p.m.
Friday and Saturday, 10 a.m. to 3 p.m.
Services available will be:
• Browsing and self-checkout of materials
• Limited computer use (one hour per day)
• Information and account management requests
• Self-service printing, faxing and copying
• Library card registration and digital card conversions (for full access to the collection)
While the library has been closed for public browsing since the onset of the COVID-19 pandemic in March 2020, it has continued to offer services such as:
• Digital downloads and streaming services
• Virtual programs—Programs will remain virtual at this time but outdoor, in-person programs will be held at select branches this summer.
• Future Reopening Phases
Library services and facility usage that will be reinstated in future reopening phases (dates to be determined), include:
• Open seating or study spaces
• Magazine rooms and access to newspapers
• Notary and passport services
• Storyville (Woodlawn and Rosedale branches)
• The Hive (Hereford Branch)
• COLAB (Randallstown Branch)
• Children's play areas, toys, games and computers