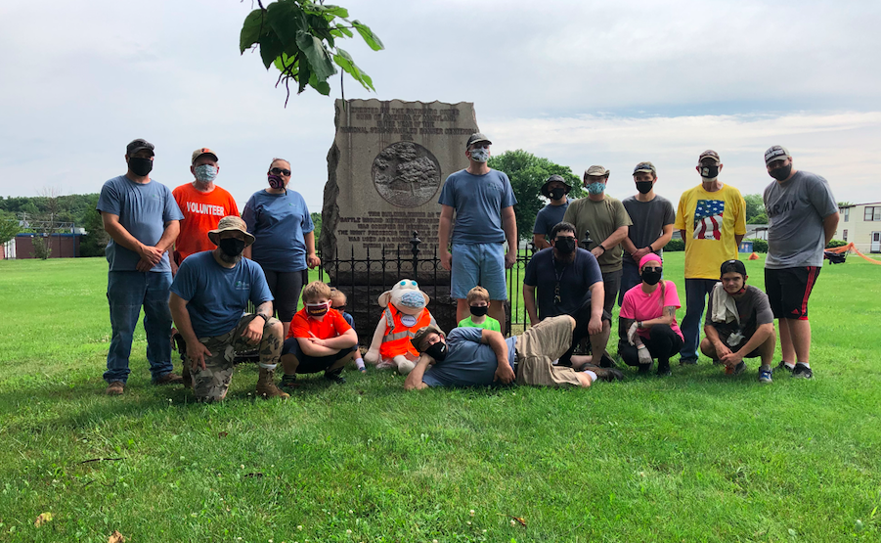 Dundalk is rich in history from events that happened during the War of 1812, with the Battle of North Point being one of the most notable events.
Volunteers, like those from Clean Bread and Cheese Creek, give their own time, money and effort to preserve that history. Last Saturday, volunteers were out picking up trash at Battle Acre Park, North Point State Battlefield and the site of the Methodist Meeting House.
The site of the Methodist Meeting House could potentially be altered in the near future, being that the property where that site is located is owned by Prime Storage. The business has plans to build an extension that could impact the site of the old Methodist Meeting House.
In an open letter to Prime Storage from this past February, the Dundalk Renaissance Corporation (DRC) asked the business to "reconsider additional development of the storage units at your property that would detrimentally impact the historic site of the Old Methodist Meeting House and adjacent waterway known as Bread and Cheese Creek."
"While we are working to support additional development in Dundalk more broadly, that progress should not come at the expense of a well-documented historical site, which, once altered, is permanently erased from the landscape," the letter said.
Prime Storage did not respond to our request for comment.
John Long, the founder and president of Clean Bread and Cheese Creek, said the Methodist Meeting House was used as a surgical hospital during the War of 1812. Both British and American fighters were treated, he said.
"Unfortunately, the [Methodist Meeting House] was purchased and destroyed in order to build a storage shed," Long said. "There's a monument there that has long been neglected. When we first started taking care of it, it was so overgrown that you couldn't see it."
Long said that he started Clean Bread and Cheese Creek around 11 years ago, after he took a free tour of historical monuments in the Dundalk area, offered by the War of 1812 Society. He was "shocked and deplored" at the condition these monuments were in, he said.
"I decided that we should do something about it," Long said. "It doesn't matter if it's been one year or 200 years. If you died defending our country, then your memory deserves to be honored."
Clean Bread and Cheese Creek volunteers cleaned up at three places that Saturday morning – the site of the Methodist Meeting House, Battle Acre Park, and North Point Battlefield Park.
Long said that Battle Acre Park is one of the oldest established battlefield parks in the US. It was an area that was a part of the Battle of North Point battlefield that was dedicated in 1839 to commemorate those who fought in the Battle of North Point on Sept. 12, 1814.
The Battle of North Point is, according to the United States Army National Museum, a battle saved America. British forces traveled up the Chesapeake Bay in August of 1814 and made an attack on Washington, D.C. Several federal buildings, including the US Capitol building and the White House, were set on fire.
The British then set their sights on Baltimore, a strategic commercial and naval center. Commanded by Major General Robert Ross, three brigades of infantry, a company of Royal Sappers and a contingent of British Royal Marines made their way up what is now Old North Point Road. They were met by 3,185 Americans, commanded by Brigadier General John Stricker. This included 3,000 citizen soldiers of the Maryland militia.
Seven miles into their march, the British stopped to eat breakfast. Ross exposed himself as a target, and two American teenagers – Privates David Wells and Henry McComas – were sent by US Army Capt. Edward Asquith to fire a shot at him. Ross was wounded in the arm, but where the musket round came from is disputed. Wells and McComas were both killed in action shortly after that incident.
Ross eventually died from his wounds, and on Sept. 12, 1814, American defenders slowed the British advance on Baltimore. The British made a siege on Fort McHenry the following day. Francis Scott Key, an American prisoner on a British ship, watched the 25-hour siege. His vantage point was just beyond where the Francis Scott Key Bridge now sits on Interstate-695. That is where he wrote "The Star-Spangled Banner," a poem that eventually became the national anthem.
The American flag was raised over Fort McHenry at dawn on Sept. 14, and the British ended their assault on Baltimore. Long said that after the War of 1812, veterans would return to Battle Acre Park on Maryland Defenders' Day (Sept. 12) to have celebrations.
"This is hallowed ground. People died on it," Long said.
Long said that North Point Battlefield Park is Dundalk's only state park, which was established in 2015 and is different from North Point State Park, which is located in Edgemere. Defenders' Day is celebrated at North Point Battlefield Park every year, excluding 2020. This year's celebration has been canceled due to the economic impact wrought by the COVID-19 pandemic.
"Some of the trees here were actually around during the War of 1812," Long said. "When they were building this park, there were a couple of musket balls that were recovered from some oft he older trees that were ailing and had to be taken out."
"This is also a large part of the battlefield. It was preserved with natural plantings so it has a meadow effect. It's meant to be a respectable park for people to walk around and be contemplative and meditative, a very low-key and natural park."
Long said that a price can't be put on history, and once it's gone, it will not come back. Seeing the way Dundalk's history is neglected makes him sad, he said.
"A nation's soul is written in the blood of its patriots," Long said. "As you get rid of the memory of these patriots, and the monuments of these patriots, you lose more pieces of the soul."