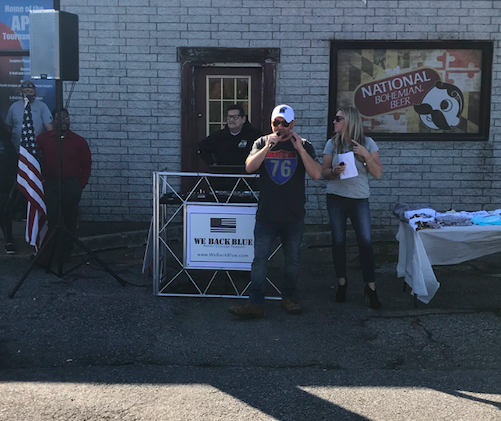 We Back Blue returned to Dundalk last weekend for another pro-law enforcement rally, calling it "We Back Blue and Veterans, Too."
Tim Fazenbaker, a local business owner, conservative activist and former MD-2 congressional candidate, was on hand at the event with members of We Back Blue, including founder Melissa Robey.
The rally, which again took place at The New Green Room Billiards, was again paired with a motorcycle ride, which was a trip around the Interstate-695 beltway. At the last rally, riders rode in remembrance of Amy Caprio, a Baltimore County police officer who was killed in the line of duty two years ago. This time, the ride was organized to honor law enforcement officers and all military veterans. Veterans Day was yesterday, Nov. 11.
"Especially with the turmoil going on in the country right now, we need to stand by those institutions that have stood by us for so long," Fazenbaker said. "We need to show support for law enforcement, and their families as well."
"Because this is Veterans Day, we need to remember that our veterans have fought through this type of adversity for years, as well. In a place like Dundalk, this is the heart of America, we want to make sure we help vets like that right here."
Del. Bob Long, R-6, was also in attendance at the rally. He told the Eagle he felt it was important for him to be with his constituents because he wanted to send a "clear message" that he supports law enforcement, first responders and veterans in the area.
"I don't think it should be political," Long said, when asked his opinion on the nationwide discussion about police reform. "It should be about police and letting them do their jobs, and that's the bottom line."
Other speakers at the event also addressed the crowd during the first portion of the rally, which lasted around an hour. After the rally, more than 200 motorcycles that were lined up in the New Green Room Billiards parking lot on North Point Boulevard fired up, and the ride portion began.