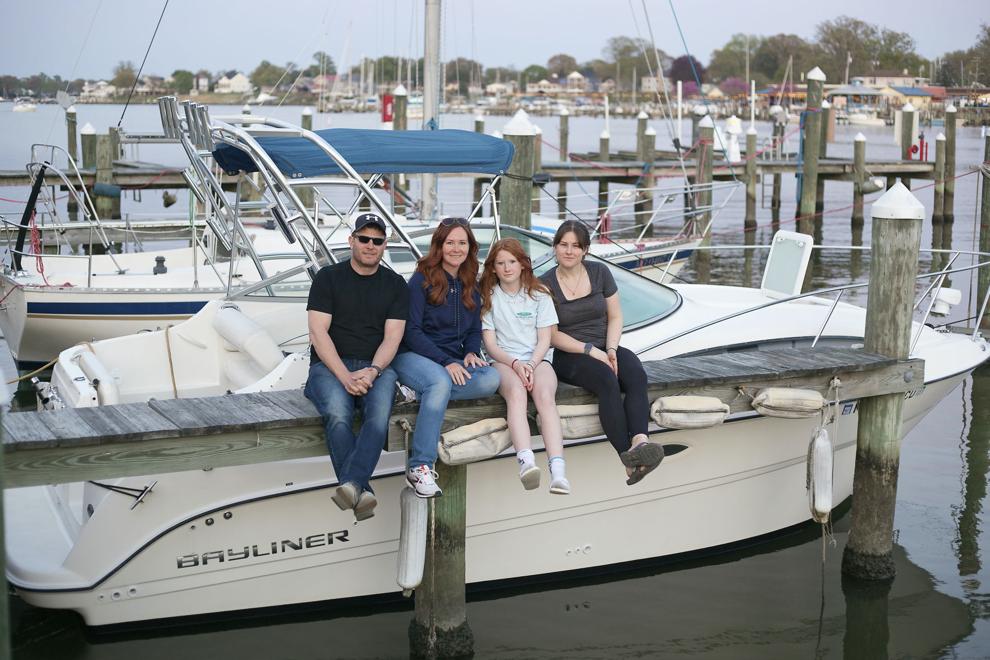 Before the pandemic, Aleana Riddell did not want to buy a boat.
Riddell had just moved with her family to a house near the water. While her husband Shawn really wanted a boat, she insisted that finishing the basement would be a better investment. It would add to the value of their home, for one, and could also be fun — maybe it would include a bar, or a game room. Buying a boat just wasn't a priority.
"But then COVID hit, everything started to shut down and there wasn't anything to do," she recalled. "I was like, 'I'm not spending my summer in the house.'"
It was hard to find one — turns out, a lot of folks had the same idea — but they eventually settled on a 2010 Bayliner 245 Cruiser that was bought new by the previous owner. They never quite settled on a name, but Shawn is a proponent of 'Clever Girl' in a nod to Jurassic Park. They bought the boat last July, and since then have used it to explore the Bay's shoreline.
That's what led Riddell, who a year ago didn't have much interest in boating, to create a map of waterside restaurants all around the Bay.
The map includes over 70 dockside restaurants, stretching from Schaefer's Canal House up in Chesapeake City to Rod 'N' Reel Restaurant down in Chesapeake Beach. And the list is growing — Riddell encourages folks to hit her up with more additions.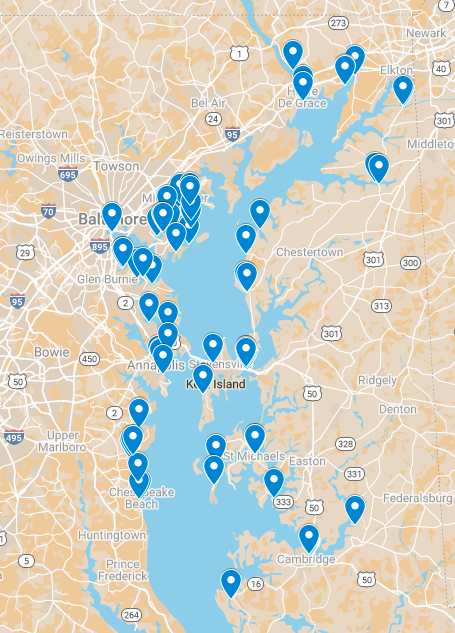 As a visual person, she explained, she wanted to create a tool of exploration that she could customize for exactly what she needed. But she didn't go it alone, asking around in some local Facebook groups to get recommendations.
Her method of soliciting recommendations from fellow boaters makes the map unique, she said — it includes spots that might not be on the big ticket lists of dockside restaurants, undiscovered (or at least under-covered) gems, maybe even newer spots that are hoping to ride a wave of business from the swathes of new boaters taking to the Bay.
As the map grows, Riddell hopes it can become a multi-tool for new boaters who want to spend this summer adventuring.
"What's really neat about this map is you can do layers, and you can turn them on and off," she said. "There are so many other things I could do with it."
Here's where crowdsourcing recommendations come in handy again, as Riddell can ask folks to pitch new layers they want to see. She's already had an offer to import a map of fishing spots, as well as suggestions to add parks and recreation areas, or historic landmarks. But her next focus will be gas stations.
"We're familiar with the gas stations in our area," she explained. "But if you head down to Annapolis, it would be nice to know that if you come into a situation where you need gas, you know where all the gas stations are."
To be sure, adventuring around the Bay is not without its perils — Riddell and the family recently attempted a cross-Bay excursion to Jellyfish Joel's Tiki Bar in Chestertown, but 'Clever Girl' broke down not long after they set out. Luckily, they were close to shore — everyone was safe, and it was a quick tow to the shop, but Riddell was disappointed that their first outing of the season was cut short.
Still, she hopes the map will encourage more boaters to get out and about this summer. Maybe as layers are added, the map can become an all-purpose guide to taking your summer road trip on the water. Plus, with restrictions easing around the state, she's glad to support restaurants — most of which are family-owned — which suffered through the pandemic.
"I really just did this to make life simple for everyone, and for myself in particular," she said. "I'm glad other people are excited about it."