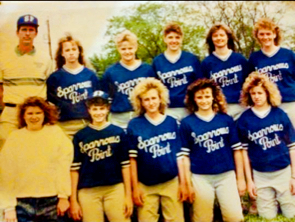 The coronavirus pandemic that shut down all spring high school sports didn't just cost seniors their final chance to play for their alma maters; for the Gamble family, it brought a premature end to a long-running and rare tradition.
Tina Gamble (Sparrows Point Class of 1989) played softball for Sparrows Point under coach Duke Vickery; her daughter Brianna (Class of 2017) played softball under coach Vickery; and her other daughter, Samantha, was just about ready to play her final softball season with coach Vickery.
Now, I've seen plenty of parents and children play the same sport at the same high school. Don't believe I've ever seen parents and children play the same sport at the same school for the same coach.
(Not saying it's never happened before; just that I've never seen it. I'm sure there are small towns around the country where everyone spends their entire life and generations go to the same school and coaches start young and stay until retirement.)
Actually, I have seen it before, although I didn't know it at the time: last year, when Rachel Blankenship followed in her mother Mandy's footsteps by playing softball at Sparrows Point for coach Vickery.
"This was gonna be an awesome year," Tina said. "It was bitter disappointment when sports were cancelled. It would have been our last ride after six straight years together from Bre to Sam."
When Briana started playing softball at Point, Tina didn't even realize Vickery was still coaching.
"You can imagine how my reaction was when Bre went out for softball and I saw coach Vick was still coaching," Tina said. "I was delighted. I had the opportunity to watch him coach both my girls."
Both Gamble sisters were also talented high jumpers in indoor track. I was constantly dropping hints — i.e., blatantly suggesting — that both would have been better off to join the Pointer track and field team and contend for regional and state medals in the high jump.
Had I realized I was going up against a family tradition ...
(Ironically, Briana high-jumped in college at Towson University.)
It occurs to me I neglected to note that April marked my 20-year anniversary at The Eagle. I arrived here in April 2000, after a three-year stint as an Electronics Boutique store manager.
Prior to that, I had written for the Frederick News-Post, The Carroll County Times, the Randallstown News and the Reisterstown Community Times.
I had left the Carroll County Times because of some nasty conflict with a genuine idiot of an editor. That led to me becoming an Electronics Boutique store manager, which was cool because I'm something of an enormous game geek, and I made more money than I ever did as a journalist.
In fact, I took a significant pay cut to leave Electronics Boutique for the Eagle. Why? Well, my store was in Golden Ring Mall. Search online if that doesn't ring a bell, or ask an older relative.
For that matter, how long has it been since anyone has seen an Electronics Boutique store?
Anyway, I'm reminded of something my editor-in-chief at the Towson State University Towerlight once wrote: everything keeps happening in cycles, or over and over again.
(I believe he was drunk, but it still makes sense.)
The Randallstown News and the Community Times were my first jobs out of college. Both newspapers were owned by the same company, were run out of the same office, and I was the sports editor of both papers.
Since 2015, the Eagle and The Avenue have been owned by the same company, are run out of the same building, and I'm the sports editor for both papers.
I haven't really thought about that until just now.