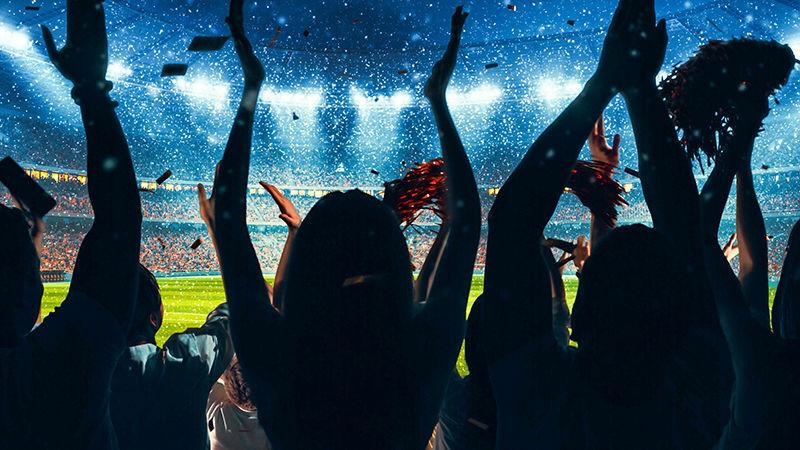 Just as I had convinced myself I really didn't want to be outdoors covering sports in February and March ...
Hey, I want to watch high school football just as much as any rabid fan (and, uh, soccer and field hockey), but its cold enough in late March through early April (and sometimes mid-April) in these parts during the "spring" season.
Being outside for part of February and all of March? My hands hurt at the thought of it. I'm not as cold-tolerant as I used to be.
(I can pile on layers until I'm sweating. But I need light gloves to operate a camera and take notes.)
After the shortened "fall" season — man does this underline where winter sports stand as opposed to fall sports in the hierarchy? Winter was straight-up cancelled despite it being, you know, technically still winter season — we have the abbreviated spring season.
And, with luck and a vaccine, by August the high school sports seasons will be back to their regular schedule.
Still keeping my fingers crossed. As athletic directors have outlined for me, there are still significant challenges to be overcome before fall athletes take to those frozen, rock-hard fields: transportation, limited daylight, getting physicals and student eligibility after a ... difficult ... period of remote learning chief among them.
(And the whole issue of the school board kinda springing this on school athletic departments when they voted to start sports on Feb. 13.)
Some interesting points about the new executive order signed by county executive John Olszewski Jr:
Only one parent or guardian per athlete is allowed to attend, within the maximum attendance allowed. Guess mom and dad will be taking turns, which may cause tension when the big rivalry game is next on the schedule.
Players are not required to wear face coverings on the field, but are being strongly encouraged to do so. Forget any difficulties with breathing — good luck to players wearing glasses when they fog up and effectively blind them while trying to play.
I'm unable to see within seconds of putting a face mask on unless I hold my breath. And I'm not close to exhaling as hard and as rapidly as an athlete in a game.
The restrictions also did not mention anything about reporters being allowed at games. I'm told that's an oversight.
So this member of the Baseball Writer's Association of America writes a column on why he had to re-evaluate his opinion of some players eligible for the Hall of Fame; players he may have voted for in the past.
One player allegedly had an affair with a 15-year-old girl; two other players were accused of domestic violence, and a fourth was arrested on assault charges and allegedly abused his now ex-wife.
Then there's Curt Schilling, who posted mean things on social media and hurt people's feelings.
I'm not even pretending to be objective here. Curt's wife, the former Shonda Brewer, grew up in Colgate just like me (I'm five years older). We both went to Colgate Elementary, Holabird Jr. and graduated from Dundalk High.
She and Curt were married in St. Peter Lutheran Church, where I once taught her Sunday School class.
Curt's regular-season stats may give him a borderline case for the Hall of Fame: over a 20-year career, he post a 216-146 record, 3.46 ERA, 3,116 strikeouts and 83 complete games.
But he stepped it up in the postseason: an 11-2 record in 19 starts, 2,23 ERA, 120 strikeouts in 133.1 innings.
Along with Randy Johnson, he helped stop the Yankees dynasty of the late 1990's. Curt went to Boston, helped the franchise break it's World Series "curse" in 2004 and helped the team win another title in 2007.
(Okay, maybe helping Boston win two titles doesn't carry much weight around here.)
Oh, but his manager with the Diamondbacks told a reporter "Curt is really good at telling you why he's right and why you're wrong." Yeah, that's right up there with taking steroids.
His biggest sin, of course, is being a right-wing conservative. Curt also does a lot of charity work raising money to help find a cure for Lou Gehrig's Disease, but that's not as significant offending the protected classes.
Now Curt is being condemned for expressing support for the protesters who forced their way into the Capital (Using the words most media used to describe the people who spent seven months looting stores, burning buildings and attacking federal buildings and police stations).
Now, that's not a good look on his part. But let's make sure to note which athletes and ex-athletes spoke approvingly of the "mostly peaceful" protests of 2020, including the one in Washington D.C. where several buildings were burned, the White House attacked and several members of the Secret Service injured.
Wouldn't want them getting into their respective Hall of Fames, would we?