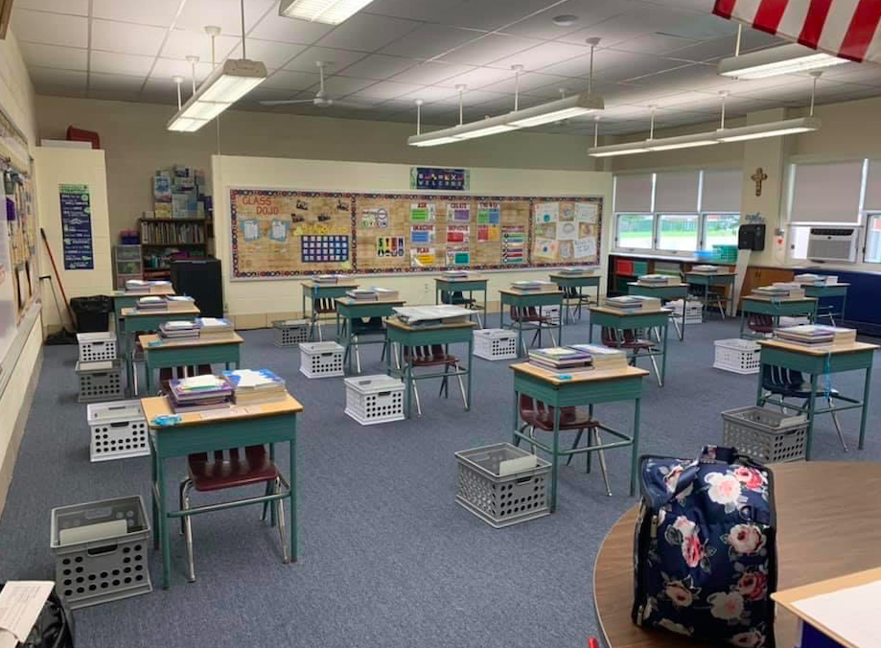 With this second week of School, we are getting the hang of being back and adjusting to the new protocols in place to keep students, faculty and staff safe.
students are back in person for the 2020-21 school year at Our Lady of Hope/St. Luke School. Families were given the option to choose five days in person learning or five days virtual. Teachers are teaching students synchronously with students being in the classroom and at home. Each teacher sent their virtual students a schedule with instructions on when to log on for classes. Virtual students are learning all day, along with the students in person with the exception of when students go outside for mask breaks and recess time.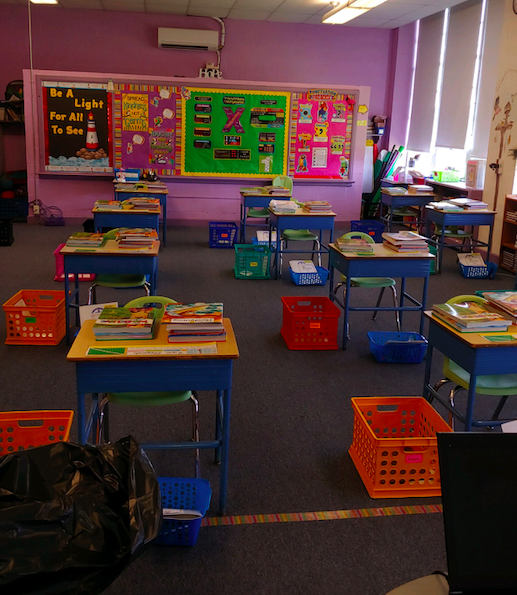 Our protocols for drop off and dismissal focus on cohort classes staying together. It is running like a well oiled machine with a full week of school under our belts. students are assigned a door and are dropped off and picked up from the same entrance. This helps with keeping track of where students are in the building. We have a volunteer parent cohort that assists outside checking students in before they enter the building. Our entry protocol is a wellness check that is filled out virtually by every parent before bringing their child to the school building. Once a student is approved to come into the building, parents can proceed to drop them off. We also do temperature checks when students are inside of the building. Teachers and staff are also required to complete a wellness check before they are admitted into the building.
Students are required to wear a mask but frequently have breaks to wash/sanitize their hands. Lunch is now delivered to each classroom so there is not much action in the hallways, but the classrooms are absolutely alive and students, faculty, and staff are happy to be together in an in person learning environment. students are socially distanced in the classroom according to cdc guidelines. The archdiocese of Baltimore opened under the direction of Dr. Robert Redfield MD, who is a parishioner in the Archdiocese of Baltimore. They set guidelines in place for us to follow and we were able to create further safety measures to ensure the safety of our school family. Updates such as new touchless water fountains, automatic soap dispensers/paper towel dispensers, hand sanitizing stations , and plexiglass between sinks and other areas of the school are just a few updates and changes we have made to the building to keep students safe. In addition, the cleaning company Janpro will continue to disinfect our building thoroughly to add to the safety of our students.
Our theme during virtual learning in the spring was "We will be together again soon" and "we are in this together". I know as a teacher my heart is full being back with our wonderful students. We are navigating through this together, as a team. The students, faculty, staff, and our families are truly working together to make these new protocols work and help in the success and continued health of our students.
Here is a parent quote I also received….
"With any new school year, there are mixed emotions of excitement and anxiety, this year only bringing a whole new level of concerns and stress. The faculty and staff of OLH/SL went above and beyond to make the learning environment safe and comfortable for our children, whether remote or in-person. They have been with us every step of the way and made sure us parents felt at ease with our children returning to school. Sending my daughter back was the best decision for our family and she is thriving back in the classroom" -Sara Powell 2nd Grade Parent