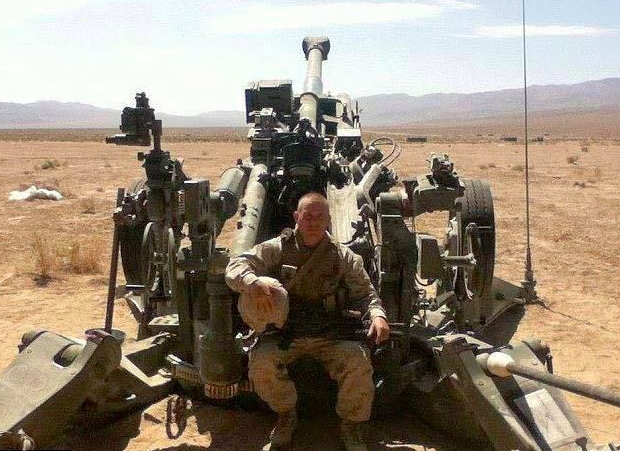 Memorial Day looks a lot different this year. Around Baltimore County, you won't see any trips to a lake, to the beach, or any family gatherings at any parks.
The day of remembrance, which eventually, commercially, turned into an unofficial "first day of summer," won't have the same celebratory or recreational feel to it in 2020. We are to remain at home and only leave our homes this weekend if it is absolutely necessary. Such is life when you live during a pandemic.
I'm not going to let the current circumstances put a damper on my own opportunity for reflection. I don't have any Memorial Day traditions, at least, not anymore. At one time, I did a three-mile run on Memorial Day to remember three people I served with who had lost their lives. That list has grown since then, and I no longer do a remembrance run.
Memorial Day has been different for me since 2015. It was that year a close personal friend, someone I had the privilege to call a friend, left this world. His name was Gunnery Sergeant Thomas J. Sullivan, a U.S. Marine Corps staff-noncommissioned officer who was stationed at the Navy and Marine Corps Reserve Center in Chattanooga, Tennessee.
It was July 16. I was working one of my two part-time jobs at Missouri State University when I saw the news that a domestic terrorist opened fire at a military reserve center in Tennessee. My initial thought was that "someone must have a death wish" when I learned that a lone gunman would actually shoot at service members.
More information began coming in, and it wasn't long before people knew that the incident happened in Chattanooga. I sent Tom a quick message just to quickly check in: "Hey man. You okay?" He didn't respond. I assumed he, being a higher-up, had to respond to the aftermath. Hours went by, and I still hadn't heard from him. He wouldn't have left me hanging like that. He would have let me know he was safe.
That night, I saw a post on Facebook from his niece. She had written a tribute for him, and in that tribute she wrote that he was one of five people killed that day. I couldn't believe it.
Tom was a combat veteran. He had served two combat tours in Iraq, earning two Purple Hearts in one of those tours. The Purple Heart is a military decoration awarded from the President of the United States to those who are killed or wounded while serving on or after April 5, 1917. Tom earned one Purple Heart after taking shrapnel to his wrist at the Battle of Abu Ghraib at Abu Ghraib prison in Iraq in 2005. He earned the other after his vehicle was hit in an improvised explosive device (IED) attack that resulted in a hole in his ear drum.
He survived everything to that point in his career, only to lose his life on American soil. Muhammad Yousef Abdulazeez, a domestic terrorist who the FBI later concluded was influenced by foreign terrorist propaganda he found on the internet. He had attacked a Marine Corps recruiting office before opening fire on the reserve center.
At his core, Tom was the kind of person who always put others before himself. That day was no different. A witness said that when the shooting began, he helped people in the area jump over a fence and run to safety. Instead of running for his own safety, he ran back to the other four people who were shot. He ran to one of the four and he was fully exposed. Abdulazeez opened fire, and Tom was gone.
The five people killed that day became known as the Chattanooga Five – Sullivan, Staff Sergeant David Wyatt, Sergeant Carson Holmquist, Lance Corporal Squire "Skip" Wells and Petty Officer Second Class Randall Smith. Five military members murdered at home by a domestic terrorist. It still doesn't make sense.
I met Tom in 2004 while we both were stationed at Camp Lejeune in North Carolina. We were both artillerymen and belonged to the same battalion – Second Battalion, 10th Marine Regiment, Second Marine Division. I met him one evening while walking into our dining hall. He met me at the door and seemed to be in a hurry. I let him go ahead of me. A few minutes later, he joined me at the table where I was sitting and we had a brief dinner conversation. It quickly blossomed into a friendship.
One of my favorite memories with Tom was when we went to see Dropkick Murphys at House of Blues in Myrtle Beach, South Carolina. That was his favorite band. He's from Springfield, Massachusetts, where his brother owns and operates Nathan Bill's Bar and Restaurant. The band performed a tribute show at the restaurant a couple of weeks after his death. Their song "Rose Tattoo" sticks out to me a little more than it used to, after he died.
We went our separate ways, like most military friends do. Thanks to the power of technology, we were able to stay in touch by ways more reliable than snail mail or phone calls. He's one person whose memory will live on in the hearts of the people who loved him. He was caring, compassionate, selfless, funny and just an all-around great person.
He loved being a Marine. Above that, he loved leading Marines. The Marines under his charge, everywhere he went, were never afraid to go to him if they had a problem or if they just needed to get something off their minds. He had a door-always-open office policy, and he always made time to listen.
It's been nearly five years since that awful day. This Memorial Day, I honor Tom's memory and the memory of all the people I had the pleasure of serving with who are no longer with us. Some died while serving overseas. Others died after they returned home.