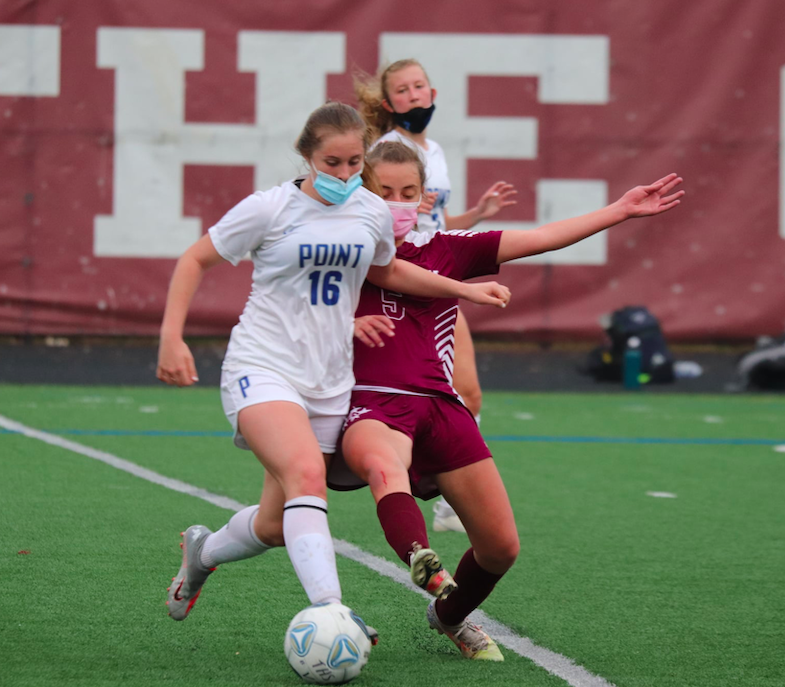 After the coronavirus pandemic halted sports action across the state for roughly a year, the Dundalk Owls, Patapsco Patriots and Sparrows Point Pointers are in the midst of participating in an abbreviated fall sports season.
In football, the Dundalk Owls currently hold a 2-1 record under head coach Matt Banta. The Owls began their spring season with a comfortable 39-6 victory over Patapsco on March 13. Dundalk junior quarterback Calvin Stokes completed seven of his 17 pass attempts for 102 yards and a touchdown. The third-year signal caller also rushed six times for 61 yards and a touchdown.
Sophomore running back Jordan Fiorenza had three rushing touchdowns on 10 carries for 85 yards. Junior wide receiver Marcus Nicholson had six receptions for 76 yards and a touchdown, while the Owls racked up 329 yards of total offense in the season-opening win.
On March 19, the Owls earned their second victory in the abbreviated spring season with a 19-0 shutout at Kenwood. Stokes recorded 119 all purpose yards and accounted for all three of the Dundalk touchdowns on the night. Defensively, the Owls were able to shut down Kenwood with a stifling 10 sacks recorded by six different players. Stokes, senior Dallion Smith, sophomore Miguel Obregon and sophomore Dale Martin each recorded one interception to lead the defense to a dominant performance.
Dundalk suffered its lone loss of the season so far on March 25 in a 38-15 defeat against Millford Mill Academy.
Stokes completed four passes for 30 yards and a touchdown in the loss. On the ground, Stokes chipped in for a team-high 43 rushing yards of the team's 105. Junior Abdullah Sargent led the Owls with 11 tackles on the defensive end.
Sparrows Point football also holds a 2-1 record thus far on the season under head coach Lamar King. After suffering an 18-0 loss in its season opener on March 12 versus Eastern Tech, the Pointers have rattled off two narrow victories in a row.
Sparrows Point had to overcome an early 10-0 deficit in the first quarter for its first victory of the season with a 12-10 win on March 19th versus Catonsville. The Pointers followed up the two-point victory with a narrow 10-6 win at Towson on March 25.
The Patapsco Patriots football team, led by head coach Tyler Clough, currently sits at 1-2 on the season after alternating with a loss then a win through the first three weeks.
After falling 39-6 on March 13 in the season opener to Dundalk, the Patriots earned a 14-8 win at Chesapeake on March 20 for their first win of the spring football season.
On March 26, Patapsco saw its record slip under .500 with a narrow 14-6 defeat verus Woodlawn.
In girls soccer action, Dundalk sits at 0-3 on the season while Sparrows Point is 2-1.
On March 16, the Pointers fell 1-0 to Eastern Tech despite outshooting the Mavericks 8-1 on target by a second half goal scored by the visitors.
Sparrows Point earned its first two victories of the season with shutouts. On March 23, the Pointers topped Catonsville 2-0 courtesy of freshman Addison Svec who scored a goal and assisted on the other to sophomore Savana Lacovelli. Svec came up clutch for the Pointers on March 25 in a 1-0 win at Towson with her lone tally with about 30 minutes left in the game that proved to be the game winner for the visitors.
In boys soccer, Dundalk is 2-0 on the season with a 4-2 victory over Patapsco and a 5-0 win over Kenwood. Patapsco is 2-1 on the year with two victories over Chesapeake and a 4-2 loss versus Dundalk. Sparrows Point sits at 2-1 on the season with a 3-1 win over Eastern Tech, a 2-1 victory over Catonsville and a 2-0 loss versus Towson.
Cross country meets have been taking place with runners donning masks, but still posting fast times. On March 17, Dundalk hosted cross-town rival Patapsco for a cross country dual-meet across campus. Owls sophomore Tristan Paulding and senior Elizabeth Stanley won their respective races in their first competitive events in more than a year.
In the boys race, Paulding shaved 43 seconds off of his personal best time over the two-mile distance, capturing his first individual win of his high school career.
Stanley brought home the win in the girls race, leading from wire-to-wire. Dundalk junior June Franklin had a strong performance in her first cross country race of her career, placing second in the girls race, while Owls sophomore Elizabeth Antwi finished fourth.