Edgemere resident Rachel Martinez, a graduating senior at Catholic High, signed a letter of intent last week to play softball at Wesley College in Delaware.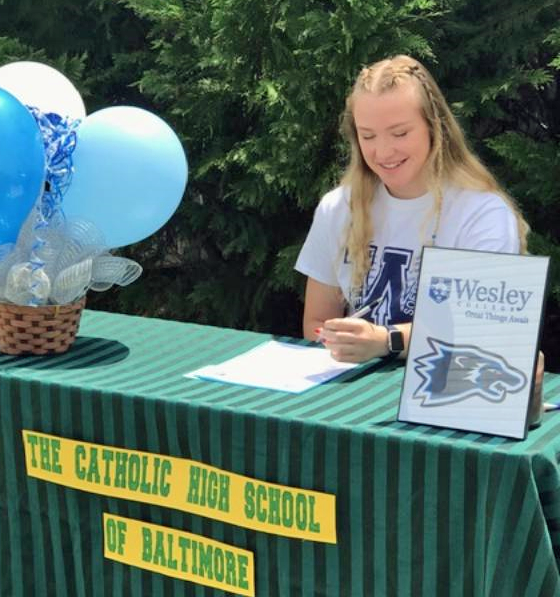 Martinez, a four-year starter at Catholic, played first base and pitcher for the Cubs. A left-hander, she earned the team's Defensive MVP and Silver Slugger awards.
A career .491 hitter at Catholic, where she was team captain her last two seasons, Rachel entered her senior year with a 28-game hitting streak that was frozen due to the coronavirus pandemic shutting down the spring season.
In addition to playing softball, Rachel was a varsity cheerleader for two years and threw the shotput for the indoor track team for two years.
Martinez is a member of several National Honor Societies and received Gold honors for every academic quarter at Catholic. She graduated in the top 10 percent of her class.
Rachel will study Secondary Education with a concentration in History, and plans to earn her Master's in Teaching at Wesley.
The Wolverines softball team was 12-4 this past season before the remainder of the season was cancelled due to the pandemic. Wesley lays in the Atlantic East Conference.
Martinez is the cousin of Sparrows Point grad Hannah Auvil, the Eagle's Spring Athlete of the Season in 2017.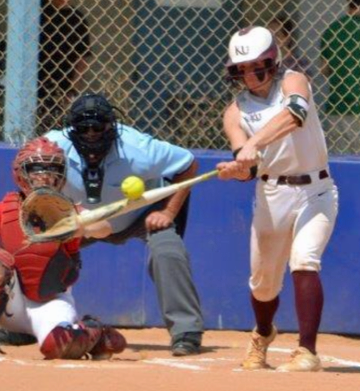 Auvil, who plays catcher for the Kutztown University softball team, was in Florida on the team's spring break road trip when word came down the spring season had been cancelled.
Kutztown played Edinborough on March 14 in one of the last games played in the nation before the shutdown.
The Golden Bears swept the doubleheader, 5-3, 7-4 to go 5-1 at the tournament (The Spring Games presented by PFX Athletics) and finish the season 15-7.
Hannah had started 13 games and was batting .268 when the season ended.
All during that final tournament, teams waved at each other after games instead of shaking hands.
"It was heartbreaking," said Hannah's mother, Donna. "I watched seniors suddenly playing their last game, with quickly put-together celebrations. When the last out was recorded, there wasn't a lot of celebration. The players wanted more, but that was it."