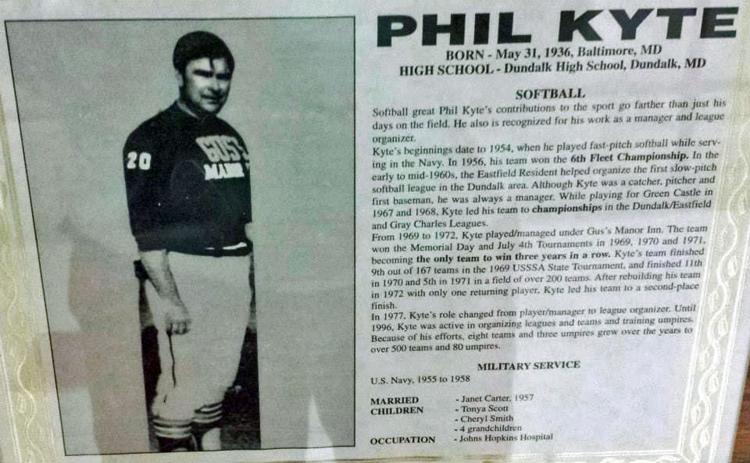 Tony Ranocchia remembers Phil Kyte umpiring some of his softball games.
"He threw me out a couple of times," Ranocchia said. "A nice, straight-forward guy. I was a hot dog and a showboat and he didn't like that."
Kyte, a member of both the Greater Dundalk Sports Hall of Fame and the Maryland Slow-Pitch Hall of Fame, died last week of cancer. The Dundalk High grad (Class of 1954) was 83.
"He was the guy that ran all of Dundalk men's softball," Ranocchia said. "Everything went through him."
Kyte was also one of the people who formed the Maryland Slow Pitch Hall of Fame, as well as its first president.
After graduating from Dundalk High, Kyte joined the United States Navy and served for four year. He left the Navy in 1958 and spent 29 years working for the Baltimore News American as a distribution manager.
He was with the News American until it folded in 1986. Kyte worked a variety of jobs before retiring in 2003.
While in the Navy, Kyte played fast-pitch softball and played for a team that won the Sixth Fleet championship in 1956.
Phil, an Eastfield resident, formed his first softball team at the News American, and also helped organize the first men's slow-pitch softball league in 1964.
Over the years, Kyte played catcher, pitcher and first baseman while managing teams for the Southern Inn, Bear Creek Inn, Green Castle, Gus's Manor Inn, Johnny's Used Cars and Robert's Restaurant.
The Green Castle teams were league champions in 1967 and '68 in the Dundalk/Eastfield and Gray Charles leagues, while Gus's Manor Inn was league champions from 1969-72, state champs from 1969-71 and Over-35 League champions in 1973.
Gus's Manor Inn also won July 4 and Memorial Day tournaments in 1969-71, becoming the first team to win three consecutive titles.
Kyte managed the Robert's Restaurant team to both league and tournament championships in three straight years (1975-77) and also won the ASA state title.
The team finished ninth out of 167 teams in the 1969 USSSA state tournament and took 11th out of over 200 teams in 1970 and fifth out of over 200 in 1971.
With only one returning player in 1972, Kyte rebuilt the team and it placed second.
Overall, his teams appeared in four world tournaments and two regional tournaments.
By 1977, Kyte's focus changed from player/manager to league organizer. He did this through 1996, organizing leagues and teams and training umpires.yte also directed many leagues.
Under his leadership, eight teams and three umpires eventually became over 500 teams and 80 umpires.
He was inducted in the Greater Dundalk Sports Hall of Fame in 1998, and into the state Slow-Pitch Softball Hall in 2006.
The #1 Field at Merrirr Point Park, with lights, was named "Phil Kyte Field" in his honor.