Brooke Mason entered this season never having set foot on a wrestling mat.
The Dundalk High junior ended the season with a fourth-place finish in the first Maryland Girls State Wrestling tournament.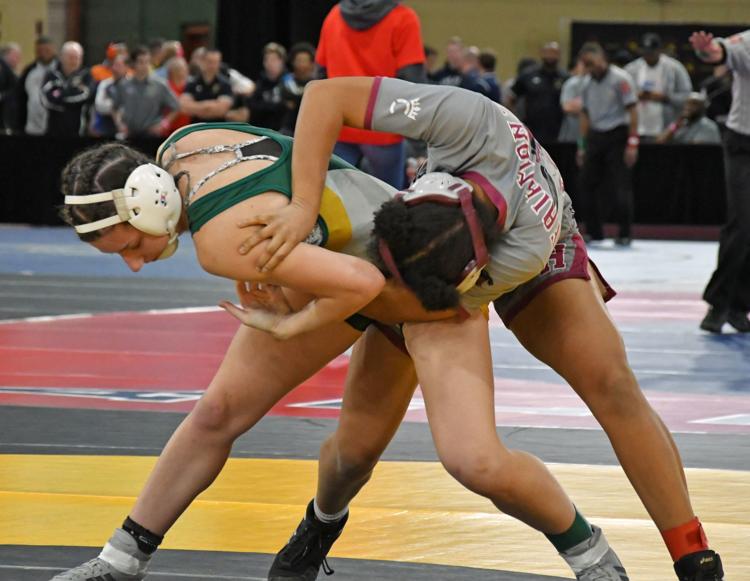 (Previously, Maryland had an open state wrestling tournament for girls at the end of the season. This was the first girls state tournament for which wrestlers had to qualify through a regional tournament.)
Mason, wrestling at 127 pounds, earned her spot in the state tournament by winning the Class 3A/4A North regional title.
The state tournament involved all four classifications.
"My first time wrestling, getting fourth in the state, feels amazing," Mason said. "I never thought I would wrestle, never thought I'd be here [at the state tournament.]"
The tournament was held over two days, Thursday and Saturday at The Show Place Arena in Upper Marlboro.
After a first-round bye due to having one of the four top seeds, Mason lost a 7-6 decision in the quarterfinals to Brianna Fernandors of Fairmont Heights.
Mason had two pins in the consolation bracket, decking Trinidy Wilson in 3:40 and Vivian Newcomer of Kent Island in 4:46.
A 5-4 decision over Ashley Knapp of Southern (AA) put Mason in the consolation final, where she faced a rematch with Fernandors.
Reailing 1-0 in the third period, Mason was caught and pinned by Fernandors with 24 seconds remaining.
"I worked hard, and fourth place is what I got," Mason said. "[Fernandors] was really good."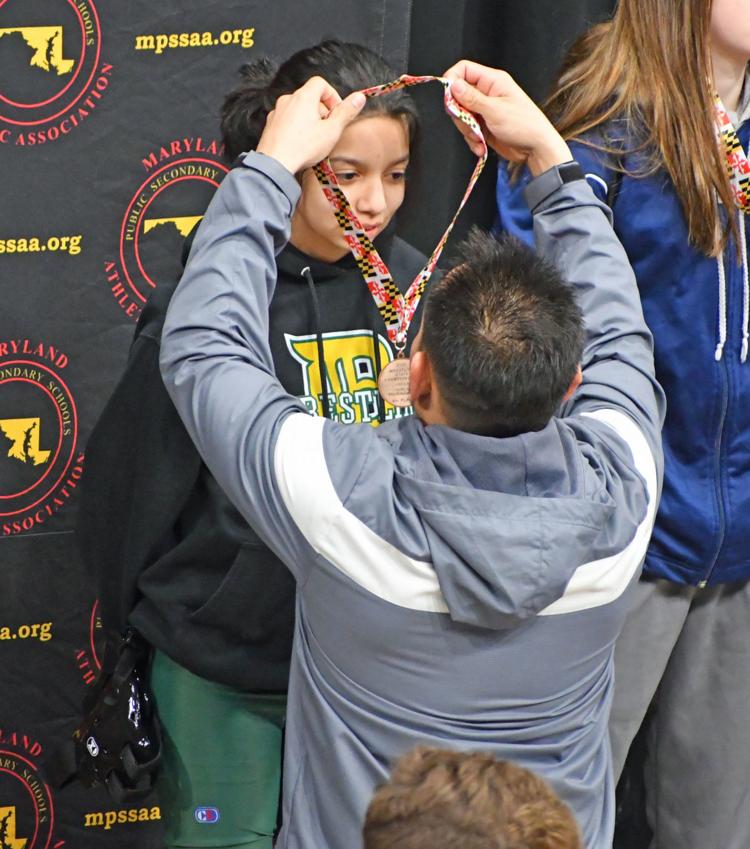 Mason, who usually wrestled against boys during the regular season, finished with a record of 15-18.
Dundalk had one other wrestler place in the state tournament, with junior Masiel Nunez taking sixth at 100 pounds.
Like Mason, Nunez (6-19) lost twice to the same wrestler. Sarah Underwood of Northeast (AA) defeated Nunez in the quarterfinals, and again in the match for 5th/6th place.
Winning state championships for Baltimore County at the tournament were Sarah Sunday of Dulaney at 132 pounds; Jaylen Hyman of Randallstown at 164 pounds; and Mame Thiam of Western Tech at 180 pounds.
After ending the regular season with a four-game losing streak, CCBC Dundalk came within one victory of reaching the NJCAA Division II championship tournament.
The Lions (21-11) reached the Region XX championship game by defeating Potomac (West Va.) State 72-64 in overtime and Frederick Community College 63-51.
Howard Community College proved too much in the finals, handing Dundalk a 104-85 loss.
The Lions led 13-11 after a three-pointer by Jayson Mouzon with 15:25 remaining in the first half. The Owls regained the lead with an 8-0 run and never have it back, eventually taking a 49-36 lead into halftime.
Dundalk never got closer than 11 points in the second half as Howard gradually pulled away.
Against Potomac State, Dundalk trailed by as many as 16 points in the first half and 19 points early in the second half.
Potomac led 56-43 with only five minutes remaining in the game and 58-45 with 2:22 remaining to play.
Dundalk outscored Potomac 13-0 in the final two minutes to send the game into overtime. With the score 58-55, Malik McCormick was fouled on a three-point attempt and made all three free throws to tie the score.
A three-pointer by Christian Wright gave Dundalk a 61-58 lead two minutes into the overtime period. Wright then sank another three-pointer to extend Dundalk's lead to 64-59.
Wright then converted three of four throws to give the Lions a 67-61 lead with 1:13 remaining in overtime.
Wright and Tyshawn Walker each finished with 19 points.
Wright and Mouzon led Dundalk with 14 points each against Frederic. Noel Hilton scored 13.