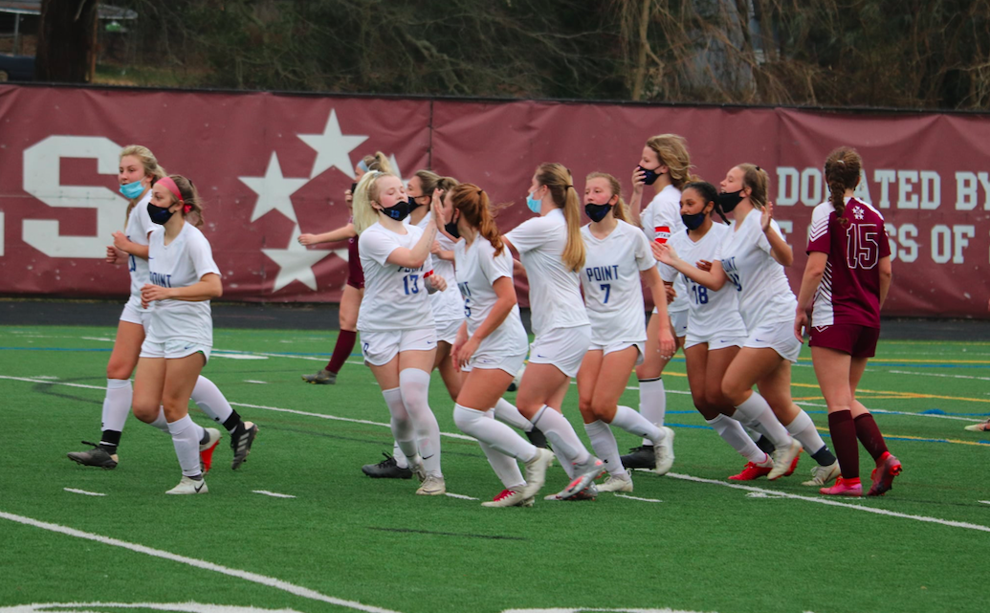 The Dundalk Owls, Patapsco Patriots and Sparrows Point Pointers are nearing a close to its abbreviated fall sports season, as competition is close to wrapping up and spring sports slated to begin practices April 19.
Sparrows Point football, under head coach Lamar Kin, completed its latest contest on April 9 at Hereford. The Pointers fell behind early after surrendering 14 first quarter points to the hosting Bulls.
At halftime, the Pointers trailed 21-0 after Hereford tacked on another touchdown in the second quarter. Sparrows Point ultimately fell by a final score of 42-15. Each team scored a touchdown in the third quarter, but the Bulls outscored the Pointers 14-8 in the final stanza. The Pointers record currently sits at 2-2.
In girls soccer, the Dundalk Owls earned a victory on April 6 with a narrow 1-0 victory over the visitors of Lansdowne. The Owls will conclude their season on Thursday with another home contest versus Lansdowne scheduled for 4 p.m.
Under head coach Kevin Heinlein, the Patapsco Patriots girls soccer team is undefeated on the season with an overall record of 4-0.
On March 16, the Patriots defeated Dundalk by a final score of 5-0 to open up their season. Senior Mackenzie Hunt recorded a hat trick with three goals and fellow senior Gizelle Harris tallied a pair of goals. Five different Patapsco players recorded assists as Harris, Hunt, Gracie Orman, Tessa Jakelski and Madison Randolph tallied helpers.
A week later, Patapsco doubled its goals output from the season opener and recorded a dominant 10-1 win over Chesapeake High. Three goals tallied hat tricks for the Patriots as Harris, Hunt and Alexis Mariano each recorded three goals. Orman provided the final goal for the Patriots.
As the calendar turned to April, the Patriots kept up their winning ways. On April 6, Patapsco defeated Western Tech by a final score of 9-0. Hunt scored a season-high four goals in the commanding shutout victory. Harris recorded her second hat trick of the season with three tallies. Mariano and Randolph each scored one goal as well. Bailey Knopp tallied one assist in the victory.
One day later, Patapsco was able to remain undefeated with a win in its closest game all year on the scoreboard with a 5-2 victory over Kenwood. Hunt and Mariano each scored a pair of goals, while Harris scored once in the win.
The Patriots have been anchored all year by their strong defensive play and last line of defense goalkeeper, senior Melody Blahut. Blahut has only allowed three goals past her in four contests.
In front of Blahut, some key defensive players for Patapsco that have combined to only allow three goals in four games are Jasmine Artis, Corrine Barco, Jakelski, Colleen Langis, Orman and Shayla Rennie.
Sparrows Point girls soccer is led by head coach Jonathan Wynne this season. The Pointers were able to push their record to 3-2 overall on the season with a win and a loss last week.
On April 6, the Pointers dropped a narrow home contest to the visitors of Hereford by a final score of 2-1.
Sparrows Point rebounded two days later on April 8 with a commanding 5-0 victory on the road at Franklin. In the win, the Pointers got a pair of goals from Savana Lacovelli and Jaimee Hausner, while Jaylen Brooks added a tally as well.
In boys soccer action, Dundalk is 4-1 on the season under head coach Jon Robbins. The Eagles have split a pair of games with Lansdowne this season with each club earning a 4-1 victory.
Dundalk topped the visitors of Woodlawn on April 8 by a final score of 8-0. The Eagles are slated at Lansdowne on Thursday at 4 p.m.
Patapsco boys soccer is 2-1 on the season with two straight victories after opening the spring season with a loss.
On March 16, the Patriots dropped a close 4-2 decision on the road at Dundalk, but rebounded to top Chesapeake 9-2 on March 23rd and shut out Western Tech & Environmental Science 6-0 on April 6.
The Pointers added two victories to their season total to push their overall record to 4-1 with two shutout victories. Under head coach Joe Lambert, Sparrows Point recorded shutout wins over Hereford and Franklin by final scores of 2-0 and 4-0, respectively.
In volleyball, Dundalk recorded a 3-1 win over the visiting Patriots back on March 16.