When Sparrows Point lost to Stephen Decatur in the Class 2A state duals semifinals, the Seahawks chose to forfeit to Lexx Carr at 195 pounds since the outcome of the match had already been decided.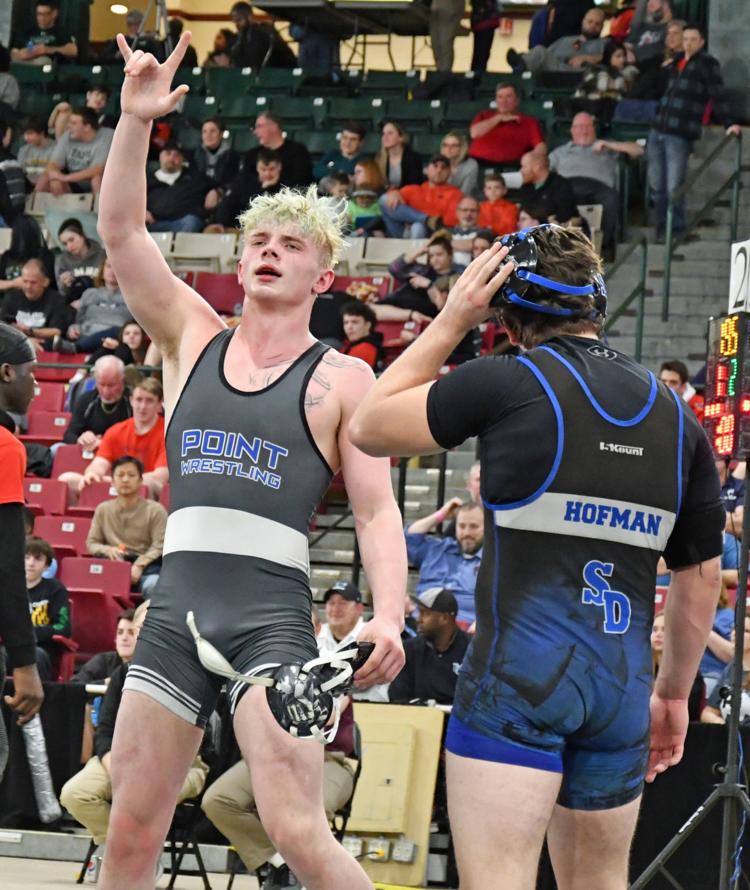 On Saturday at the Class 1A/2A state championship tournament, Stephen Decatur's 195-pounder had to face Carr, the top-ranked 1A/2A wrestler in the state at that weight class.
Carr defeated the Seahawks' Johnny Hoffman 2-1 for the 195-pound state title.
Ironically, Sparrows Point had two wrestlers in the championship finals and one wrestler in the consolation final, and all three faced Stephen Decatur wrestlers.
Richard Davis lost the 132-pound final to the Seahawks' Nico D'Amico 4-3 in a match tinged with a little controversy, while Jake Rallo took third at 170 pounds with a 3-2 decision over Micah Bourne of Stephen Decatur.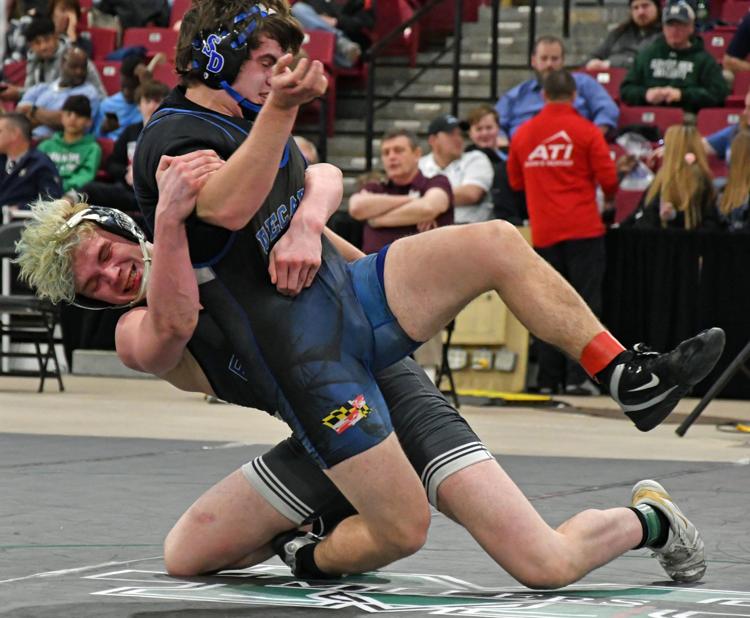 "I couldn't let [Decatur] take a second title away from us," said Carr. His victory wasn't heavy with action.
The two wrestlers sparred on their feet for the entire first period. Carr took the down position to start the second period and reversed Hoffman for a 2-0 lead.
Carr was in the top position for the third period, and kept Hoffman down until letting him escape in the final second.
"If this was college, I would have gotten credit for two minutes of ride time," Carr quipped, acknowledging the match's lack of scoring action.
"It was a very slow, methodical match," he said. "I made sure I stayed smart, didn't give him an opportunity to capitalize on anything."
Which was the mistake Hoffman made in the second period.
"I wanted to try a shoulder-up, but there was so much pressure from him that I hit a switch," Carr said. "There were a couple of moments when he almost got some leeway, but I didn't leave him with anything to do."
Carr (47-2) reached the final with a pin in the first round, an 8-0 major decision in the quarterfinals and an 8-4 decision over Jay Miller (35-4) of Mountain Ridge in the semifinals.
Davis was attempting to become a rare wrestler who won a state title after not winning a county or regional title.
He took a 2-0 lead over D'Amico with a takedown in the first period. The Seahawk wrestler had an escape in the first period and an escape in the third period to tie the score before taking a 4-2 lead with a takedown.
Davis escaped, but time ran out on him.
D'Amico was issued three cautions for stalling during the match (there was a fourth that wasn't called). That should have awarded a penalty point to Davis.
It was also learned after the match that one of the referees was a Stephen Decatur grad.
On the takedown, Davis seemed to lose patience with D'Amico's reluctance to do anything, took a shot for a takedown, but missed and was caught by D'Amico.
"He seemed like he didn't want to wrestle," Davis said. "He would keep his distance and keep stiff-arming me.
"It was very frustrating, with all his cautions and his not being penalized for it. He didn't want to open up, just kept his arms straight and left me with few options. I had to take a risk, and got caught."
D'Amico (46-1) beat Davis (48-7) in overtime during the state duals championship semifinal.
After winning his opening match 7-5, Davis pinned top-seeded Colby Unkart (39-5) in 3:16 and won a 5-4 decision over Amondre Wooden of Owings Mills in the semifinal.
Rallo (49-3) reached the 170-pound semifinals with two pins, one in 1:36 and the second in 4:31, before losing a 3-2 decision to eventual champion Xavier Kresslein of Poolesville.
In the consolation final, Rallo edged Bourne 3-2.
Trailing 1-0 entering the third period, Rallo tied the match with an escape and then took down Bourne in the final 20 seconds for a 3-1 lead.
Dom Ambrosino finished fifth at 106 pounds, losing an 8-7 decision in the quarterfinals and a 7-5 decision in the consolation semifinals before winning by injury default in the 5th/6th-place match.
Ambrosino led 7-3 in the third period when his opponent was injured.
Wayne Brooks finished fifth at 120 pounds, defeating Andrew Ruel of Southern (AA) 5-3 in overtime.
Trailing 2-0 in the third period, Brooks made an escape and then scored a takedown in the final seconds for a 3-2 lead.
Ruel was awarded an escape at the buzzer to send the match into overtime, where Brooks scored the first takedown.
Brooks (37-12) also lost in the second round and in the consolation semifinals.
Patapsco's Sylvil Blake lost his first two matches in the Class 3A/4A 152-pound weight class.